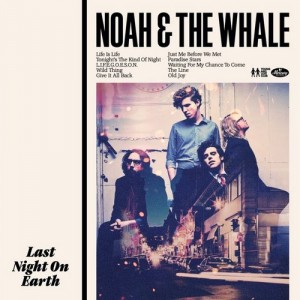 Last year I went to see Noah & the Whale perform their second album First Days of Spring at the Camden Roundhouse. Their performance, like the album, was devastating. Half of the room was in tears. The gig could fairly be termed 'a triumph'.
Nevertheless I left feeling unsettled, because for their encore, Noah & the Whale played new track 'Tonight's The Kind of Night'. The contrast between that and the beautiful and bleak songs that had gone before was stark. It sounded like U2.
Opening with some 80s synth nastiness, Last Night On Earth at least gives us fair warning that things have changed. The band say they've been influenced by Bruce Springsteen, but they lack Bruce's ability to create real pathos in the stories he tells, and U2 is still the closest comparison I can find. The opening tracks with their stadium-rock stylings and banal lyrics sound empty.
Things get a little better as the album goes on. L.I.F.E.G.O.E.S.O.N. is at least genuinely catchy. 'Give It All Back' is self-conciously Springsteeny – it even namechecks him. It's a good tune but, along with the rest of the album, it's covered in a weird cosmic fuzziness that doesn't do anything for it. The tracks 'Waiting For My Chance to Come' and 'Paradise Stars' particularly are ruined by this bizarre bit of post production.
Like its overblown title, lots of the tracks on Last Night On Earth could best be described as "epic". If that's your kind of thing, you may well enjoy this album. If you find most things described as 'epic' deadly boring, then it probably isn't for you.
If this third offering had followed from the catchy whimsy of the first album, it might have been better received. But knowing the brutal honesty and musical subtlety Charlie Fink is capable of, Last Night On Earth left me with the feeling that they've just not tried.
Listen for yourself: Stream Last Night on Earth on NME.com