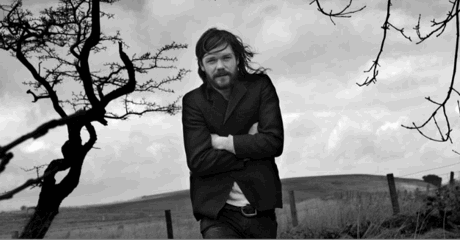 Roddy Woomble needs no introduction or support on a bright but chilly Belfast afternoon. We're full of Sunday lunch and optimistic anticipation of a great show as the occasional Idlewild front man graces the stage with Seonaid Aitken on fiddle and piano, Sorren Maclean on guitar and Gordon Maclean on upright bass. Each member of this alternative folk group is an accomplished performer in their own right: particularly Danny Kenny award-winning Aitken. This ensemble however proves greater than the sum of its parts with Woomble's angular gait and awkward charm sitting at odds with that distinctive voice.
While the songs from My Secret Is My Silence focus on the more sedate rural life of the rugged Highlands of Scotland, there are moments when the transition from indie rocker to folk balladeer doesn't seem like such a huge leap for the man who's experiences in the far north of his homeland have shaped him as much as time spent in France, Edinburgh and New York City. Tunes like 'Act IV' and 'As Still As I Watch Your Grave' hold the crowd in hushed reverie while 'Waverley Steps' sounds as epic in the sold out venue as it does on record.
We're treated to a selection of new tracks from the upcoming album "The Impossible Song & Other Songs" which promises to build on the success of Woomble's debut effort and "Before The Ruin" recorded with John McCusker and Kris Drever. With a release date scheduled for later in the Spring we're hopeful of a quick return from these folking Scots.