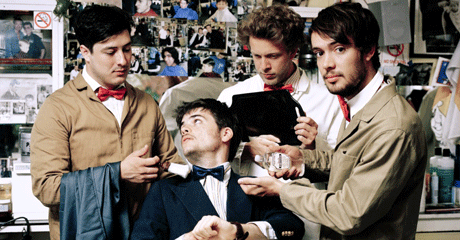 Mumford & Sons have come a long way in the past three years, from playing tiny rinkydink venues they gathered fans through word of mouth and associations with more established acts like Laura Marling and Noah & the Whale. Tonight they play the sold out Hammersmith Apollo, and trace steps the Beach Boys, Beatles and Bob Dylan have also walked.
Taking the stage to a chorus of screams, the foursome launched into the acapella beginnings of 'Sigh No More'. Having had a little break from Mumford & Sons' headline shows, the adulation the band receive comes as a bit of a shock. The audience treats them like a boyband. Although it's slightly offputting, about four songs in the familiar feeling rises up in my chest. Mumford & Sons put on a rousing, affecting show and it's impossible not to get caught up in it.
Tonight keyboardist Ben Lovett lives up to his suffix. He bloody loves it. Out of the four band members he's the one whose face registers the most joy at the crowd's attention – and it's infectious. He and banjo player Winston Marshall bound around the stage when not restricted by their instrumental duties. And when the brass section are introduced for 'Winter Winds' the pair jostle over to them as they blast out the fanfare.
The mood changes when frontman Marcus Mumford tentatively announces a new song, 'Matthew's Room'. It begins slowly, and every 16 bars the crowd sped up their clapping the hope of an ensuing hoe down. While the song built in tempo and energy, it didn't break down in the same way as the majority of Sigh No More's tracks, perhaps signaling the beginning of change in pace when it comes to new material. Marcus announces that writing for album number two will get underway in a months' time, when the boys return from an American tour.
Mainstream popularity is not without its drawbacks. The gathered – and I'm willing to hazard, inebriated – throng squawked and whistled over the lovely four part harmonies of 'Timshel', and in the encore an attempt at an unplugged version of beautiful pre-album track 'Sister' is almost totally drowned out by whoops and shushing. But elsewhere the atmosphere is electric, the circle seems like it might come crashing down under the weight of the clapping and stomping during crowd favourite 'Little Lion Man'. Newer song 'Lover of the Light' is a storming success and momentarily forgoes the band's bluegrass influences for a rockier sound.
There'd been rumblings before the show about a secret guest, and soon enough Marcus welcomed Kinks legend Ray Davies to the stage along with ex-Cherbourg drummer Chris Maas. Dressed in jeans, a tweedy jacket and a knotted scarf, Davies looked for all the world like another Son as he collaborated with them on a medley of Kinks classics 'Days' and 'This Time Tomorrow'.
Mumford & Sons seem unchanged by their "overwhelming" success, they still put everything into their live show. It's clear that Marcus, voice gravelly and gorgeous, is grafting from how much he's sweating, Winston still pulls out his unique knee-swooning whenever the occasion calls for it, Ben headbangs along to his keyboard chords and Ted Dwane still pulls that face (best described as a gurn) when he loses himself in playing his double bass. It's gratifying to see that success hasn't ironed out these kinks and eccentricities, their unselfconsciousness is part of who they are. This band know how to push an audience's buttons, they've found a winning formula, and by the looks of things they're sticking to it.