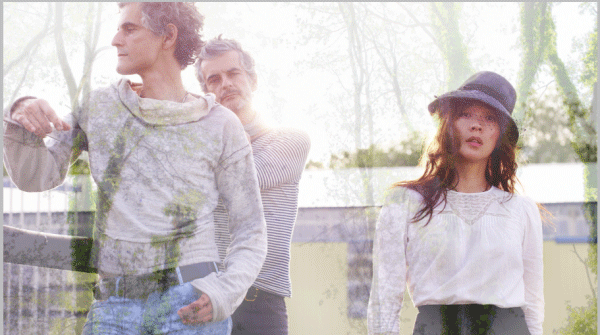 Setting the scene for this evening was Londoner Porcelain Raft, whose charmingly low-fi dreamy sound paved the way for the main event -revered art-rockers, Blonde Redhead.
The band came on to the stage in a wash of copper orange and purple lights and got straight into the duet, 'Black Guitar' from the recently released album Penny Sparkle. Wearing a kind of sci-fi-squid mask, with a sheet of blonde hair hanging from the bottom, lead singer Kazu only added to the mystery and subtlety of this first track, perhaps with a nod to Fever Ray and her love of weird and wonderful face coverings.
In keeping with the pared down mood of the new album, tonight's set starts very low-key, lulling us into the dreamy hypnotic state that Blonde Redhead do so well. The brilliant 'Here Sometimes', was given a new lease of life with a booming bass and drums, but it wasn't until 'Falling Man', from Misery is a Butterfly that the pace and the mood started to get lively.
While they are known for their melancholic new-wave sound world, their heavier tracks are some of their best-loved, and the audience were yelping and wooping when the band delivered with '23' and 'Dr Strangeluv' from the album 23. Kazu literally let her hair down, and was somehow able to mosh while still staying beautifully in tune.
The recently released Penny Sparkle heralds a more mature and quietly uplifting sound, as if the three-piece have come of age. The record is a bit of grower, and can seem subdued, but performed live the songs are allowed to build into something more powerful, and it is easier to appreciate the depth of their new sound.
There is no chatter with the audience tonight, aside from the odd, and very polite 'Thank you'. Instead, different tracks are linked together with 80s style synth or guitar solos. But the overall sound blends beautifully, with Kazu's voice floating above the lush synths and melodic guitar lines below.
As always when a band has such a good discography, it was disappointing not to hear more from their previous albums, just for old time's sake. But then along came 'Melody of Certain Three', from their 2000 album, much to the delight of the old-school fans in the audience. Knowing exactly what they were doing and bringing us along for the ride, Blonde Redhead saved the best till last.
Words: Meabh Ritchie