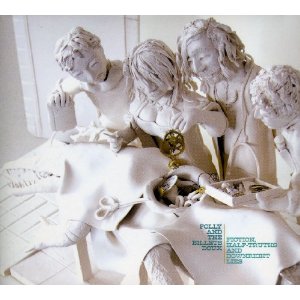 Polly and the Billets Doux are on dangerous ground. The sort of jazzy blues-rock that is pulled off by the likes of Grace Potter & The Nocturnals and Erin McKeown is hard to do without falling into the twee trap.
And that's before you have to explain away roots not on the Bayou but in Winchester. But do not fear, because this is accomplished stuff. Polly Perry's belting vocals are infectious, and she has assembled a talented backing group who sound assured playing blues, country and jazz.
But what carries Fiction, Half-Truths and Downright Lies is the quality of the songwriting. You'll already feel like you know half of these songs (I'm still checking the writing credit on the funky The Cup And The Lip).
The raucous Follow My Feet sets the scene and draws you in, but there are so many different styles on show here that the attention never wanes even as the tempo jumps around, slowing all the way to a crawl on The Rounder.
The foot-stomping Don't Trouble Trouble is the stand-out track, but that's not to suggest there's anything weak here. The band first self-released this album last year, and it seems amazing they are only now starting to pick up the sort of recognition they deserve.
Keep an eye, and an ear, on them. They could be destined for big things.
You can get a free download of album track To Be A Fighter here.