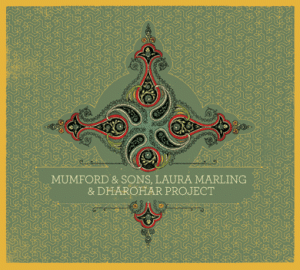 This brilliantly entertaining EP from Laura Marling, Mumford & Sons and the Dharohar Project is made up of live recordings from their combined set at the iTunes Festival in Camden Roundhouse on the 9th July.
The EP opens with two Mumford & Sons songs, 'The Cave' and 'Roll Away Your Stone'.  Despite not sounding that different from the studio recordings on their album Sigh No More, the addition of a live atmosphere and cheering of the crowd really make these tracks excellent. Mumford & Sons are a brilliant band to see live when the infectious hoedown style of their music  really comes into its own with rippling banjo and thumping double bass, an effect captured on this EP, and it would be great to see more live recordings released by these guys.
Next up is Laura Marling with 'I Speak Because I Can' and 'Rambling Man' from her latest album. After the excitement of Mumford & Sons, Marling provides a more calm presence, quietening the audience with her powerful and emotionally stirring lyrics. Dharohar Project follow Marling, and this is where this release really becomes different and interesting. Following suite with the others, they perform two songs 'Mala Ramaniya' and 'Sakhiri Mere', the former being the most enjoyable song. The final songs on the EP are the most exciting however, when the bands join each other on stage to perform together, with Dharohar Project infusing 'The Darkness' and 'Devils Spoke' with traditional Indian instruments, and lyrics too.
Overall this EP is an enjoyable and somewhat educating listen, showcasing not only the brilliant live sets of it British stars, but giving the Dharohar a new wider audience too, and hopefully we can look forward to more collaborations betweens these superb artists.
Released: 21st July 2010
Download from: iTunes