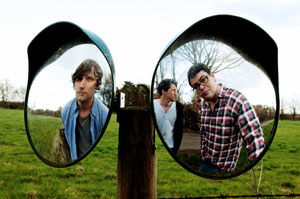 There's something homely about Larsen B, and we don't mean their Home Counties background. The debut album, Musketeer, was recorded on a parent's farm and features the local postman on accordion. But however it was put together, it's picking up plenty of plaudits, so it's time for the panel to take a listen.
---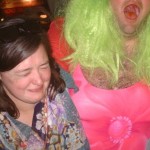 Emma Dalby Bowler: Larsen B sounds like it should be the name of a dreadful Europop DJ pumping out Grooverider-esque 'toons'. Luckily, what we're getting instead is melodic, jaunty loveliness of a Mumford-like persuasion. Larsen B aren't breaking any moulds, but what they are doing, they're doing beautifully. Without pomp and bravado, they create elegant sounds and lush harmonies – Codeine channels The Beach Boys, The Gold Cup echoes the Fleet Foxes. That's pretty good company to be in. Their debut album Musketeer has been generally well received – Mark Ellen of The Word put it in a list of his Top 5 albums of all time. I can't imagine it's going to break into mine, but I'm looking forward to it nonetheless.
---
Alice Sage: Larsen B: This is an accomplished band. They have a well-developed sound, reminiscent of 90s indie boys in muddy Hampshire fields. The Gold Cup and Codeine stand out from the mush of indie sweetness, with less predictable accompaniment and waltzing choruses. Marilyn is a track I'd expect to hear from a million other bands – not to say it isn't lovely to hear. All in all they sound not dissimilar to many other quick-drum, big-chorus folksters. Good, but easy to forget.
---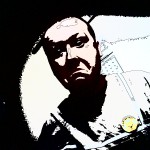 Rory Dollard: Just a couple of minutes in the company of Hertfordshire three-piece Larsen B makes you realise just how few bands have treated melody as their first concern in recent years. Thom Yorke's Kid A-era proclamations that he was "embarrassed" by hummable tunes and the Alan McGee-inspired notion that Coldplay's sweeping choruses made them "bedwetters" fed the notion that an edgy tone, the right amount of reverb and some fuzzy guitar were ample substitutes for a good tune. Larsen B beg to differ. They deal in sunny-side-up pop songs that call to mind The Delays or Longview and even call up a little nostalgia for the early days of Keane before they suffocated in self-regard.
Check out Larsen B at their myspace page here. Debut album Musketeer is out now on Old Radio Tunes.