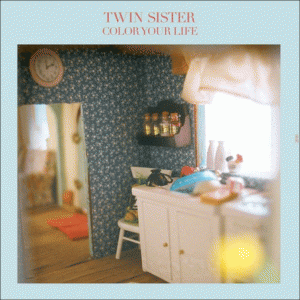 What a sweet prospect this double EP from Twin Sister is. The sleeve of Color Your Life features a dollhouse furnished by lead singer Andrea Estella, fuzzily nostalgic, like an old Polaroid, and the sounds within are appropriately dreamy and intimate without ever becoming too twee, a string of hazy, deeply textured songs like the most gold-tinted moments of Twin Peaks.
Beyond this, Twin Sister are hard to pigeonhole; they make quietly surprising music that's more than the sum of its parts. One moment they evoke Young Marble Giants, Grouper or Cocteau Twins, then there are hints of 70s disco and Japanese pop, Estella's vocals hovering between Karen O and Kimya Dawson until comparisons become redundant. 'Nectarine' is the most folky song of the pack, the overall mood being too diffuse for one genre. Gorgeous undercurrents evoke running water, creaking swings, even, I swear, whalesong, and spangling, melodious guitars wrap around playful, hopeful lyrics with a slight, whisper-thin edge of darkness.
There's a wistfulness to 'Lady Daydream', sighing "If you forget it all, I will bring it with me/If you can't find the sea, I will take you there". This track was my favourite, alongside Vampire's 'Ginger' and 'I Want A House', but I could even accommodate the wordless atmospherics of 'Galaxy Plateau', so lovely are both these EPs. Twin Sister may be soft-spoken, but such lush, lovingly detailed work has a subtle boldness that can and will go wherever it likes; 'Ginger' opens with a thudding drumbeat that's anything but shy. Listening is like taking a road trip to a warm land of hammocks and porches with summer rain on the roof; space for curling up in and space for dancing.
Words: Becky Varley-Winter
Label: Double Six (Domino)
Release Date: 13th September