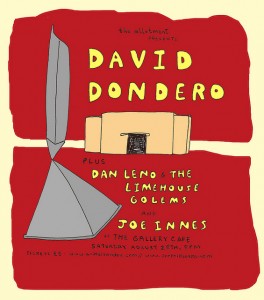 After a brief hiatus, FFS and Anika in London's Allotment night is back.
On 28th August at The Gallery Cafe in Bethnal Green (my favourite place in the world, ever) we're bringing you US songwriter David Dondero, who has toured with Bright Eyes, the Mountain Goats and Willy Mason. He releases music on Conor Oberst's Team Love Records. You can listen to him on Spotify
He will be joined by Dan Leno and the Limehouse Golems — who recently got the FFS new band panel treatment — and Allotment stalwart Joe Innes.
Tickets are available in advance from We Got Tickets.
In the past the Allotment has put on headline shows for Caitlin Rose, She Keeps Bees, Scary Mansion, Broadcast 2000 and Alessi's Ark.