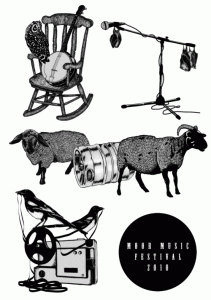 I so wanted to get through this review without using the words 'mini Glastonbury of the north', but there it is. I've gone and bloody done it in the first sentence.
The truth is, though, that's exactly what Moor Music Festival is. It's limited to 3,000 people so perhaps micro would be more apt, but, there in the rolling North Yorkshire countryside, the atmosphere is so similar – so relaxed, so celebratory, so (dare I say it) hippy – and the toilets so revolting (someone miscounted there, surely??) that you can almost close your eyes and imagine you're on Worthy Farm. We even had Glastonbury-esque rain this year although, in the interests of full disclosure, I should point out that by the time I arrived on Saturday the sun was out, the ground was dry and my brand new wellies were being worn more for show than anything else.
Much of the music is of the local variety, from Leeds and even closer to home than that, so bands like the utterly lovely Ellen and the Escapades and SSSSS were in residence on day one, while Chickenhawk rocked out on an altogether more hardcore day two. Hope and Social were the main attraction on day three.
There are also plenty of musical delights to be found away from the surprisingly-named Earl Hickey Tribute Lounge – from the soothing daytime jazz in the Green Room to the Homespun's dubstep and drum and bass. I'm told the drum and bass was good, the dubstep less so. Seriously, I have no idea.
There's so much else going on, though, you could happily spend the whole weekend there without even entering the music tents. There are murder mysteries, there's exceptional mini-golf, workshops in all things from pot-making to spinning… A particular favourite among my party was the inflatable section: a massive slide, a bouncy castle and gladiator joust. If you search the internet hard enough, you just might find some pictures of me getting my ass kicked.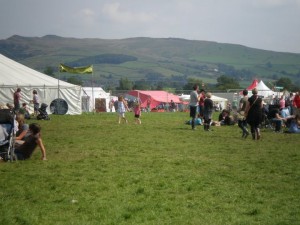 Perhaps one of the most striking things about Moor Fest is how family-friendly it is. With the site relatively small, it's easily manageable for kids, while there's none of that undercurrent of aggression which seems to prevail at some festivals. There's even plenty of entertainment laid on just for children. It's easy to imagine a generation of Yorkshire kids getting their first taste of festivals here and being hooked for life on that weird world of camping, music and Tibetan food.
Words: Ali Mason