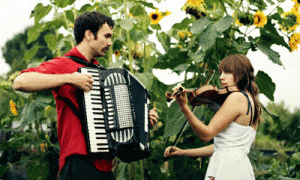 It's a sweltering evening in Cafe Oto – a Dalston jazz cafe somewhere between the shadow of the Balkans and the plains of New Mexico.
A Hawk and a hacksaw are from one of these far flung locations and, in many ways, they sound like they're from the other – but with the sweat and the small wooden chairs, I occasionally lose track of which is which. If that sounds careless, think of it as a tribute to an act that has its own landscape – a wilderness over which the largely wordless music lurches and gallops.
It's a powerful, mesmerising sound from the very beginning- wilfully difficult to place but unmistakeably rustic and timeless. The sort of thing you can imagine stumbling on in full swing in a woodland clearing in Romania, but probably never would in reality.
The instrumental array is fascinating and genuinely draws the occasional gasp. I don't say that because the audience has never seen a trumpet before; the group takes oft-abused instruments – bongos, accordions, whatever that mad customised double-decker violin is that Heather Trost occasionally sports, and makes them into a hugely powerful ensemble.
Jeremy Barnes' percussion and Trost's violin form the core of tonight's 6-piece group and drive the performance from wild gypsy jig to romantic paean, rough and then wistful, each song unfolding and intriguing the wrapt and sweaty gaggle. They're playful with it too, mixing whoops and stomps with unearthly sounds extracted expertly from their instruments.
'It's even hotter in this room than where we're from' grins Barnes. He might be right, but tonight's seemless sampling of work from the past 8 years is energetic and imaginative enough to make that seem fateful – as if AHAAH has brought the far-away to Hackney.
Words: Steve Hall