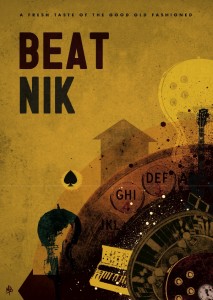 Beatnik is a monthly event at The Macbeth in Hoxton, featuring a free rooftop barbeque, puppet-making, hula-hooping, open mic, vintage DJ-ing and fine folk. It's the brainchild of singer-songwriter Russell Swallow, writer of warm, Romantic songs like a draught of vintage. Having encountered such delights as Tommy Antonio and Perennial Company and Hope Phone, I met with Russell to find out more.
FFS: Why 'Beatnik'?
RS: I wanted the night to have the same spirit as the Beat era, when a lot of different areas of art were opening up in new ways. I was inspired by writers like Kerouac, that idealism and pursuit of things that seems to tie in with the way a lot of musicians live – the way I try to live, anyway!
'Beat' can be associated with a kind of self-conscious cool, but in its original sense it doesn't mean that…
Yes, there's openness to it and a D.I.Y. element; hopefully Beatnik reflects that.

How is it distinct from other music nights in London?
From experience I'd say it's cheaper than most of them! We also try to make it as welcoming as possible; the ethos is to provide the best environment for everyone.
In your own music you've moved from rock to folk; why does folk appeal to you? It's quite a broad term these days…
Yes, originally folk was acoustic musicianship and storytelling, often very politically engaged, which isn't always the case now, but it's music from the heart, focussed on people. I loved being in rock bands and jumping around on stage, but folk was my passion in a more personal way – John Martyn and Nick Drake. When the recession happened, I decided I might as well stop trying to be 'commercially viable' and just write what I wanted. I suppose it's that heartfelt, intimate side of folk that I'm drawn to.
Who have been your favourite acts to perform at Beatnik? What's coming up?
RS: No one's really disappointed! Laura Hocking was lovely, and Perennial Company and Hope Phone were captivating. Coming up, Dan Clews, the Beatles producer George Martin's new protégé, is playing August 22nd. Then there's Ruth Theodore of River Rat Records, an awesome environmentally friendly indie record label; she's playing 26th September. Pete Lawrie at Island records, who's played the festival circuit with Mumford and Sons, is playing October 31st. We're also expanding, with film projections and more music upstairs, and an unplugged area on the roof so people can listen while they eat. In future we've got magicians and a dancer coming, art installations, jewellery makers, video and spoken word as well as music. I've got a great group of friends who help make it a success, with the puppet-making, vintage DJ set and free barbecue. And hula hoops!
The next Beatnik is this Sunday, August 22, at The Macbeth in Hoxton, £5 entry. To be put on a reduced-price guestlist and sent free tracks, email [email protected], stating your name and quoting For Folk's Sake. Guestlist open for August 22nd or September 26th.
Find Beatnick on Facebook.

Words: Becky Varley–Winter