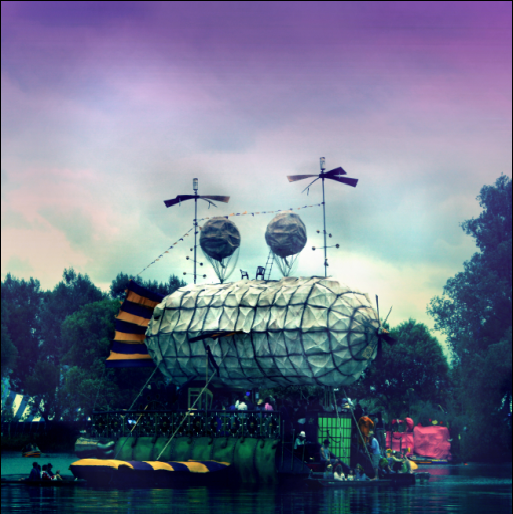 After a journey to secretdom (somewhere between Cambridge and Norwich), the garden unfurls itself all centred around a huge flying machine anchored in a giant lake. This years theme was 'Fact or Fiction' and no effort was spared with the hidden quirks and treats laid out for us to discover.
Foraging was positively encouraged and results included *deep breath* an origami penguin grotto, a "harp hive", a tree-house stage, a mud wrestling amphitheatre, live chameleons, snakes and tarantulas, naked ping-pong, a home-made post office, a flirting tent, hay-bale mountains, vintage fancy dress stalls, a pedal-powered disco and more sculptures than possible to describe.
The music stages, some tented some open air, added to the settlement, like a pick-and-mix circus camp, the eclectic line up served up three days of wall-to-wall live music ranging from reggae to Americana, dubstep to swing, folk to funk… over 1000 bands in all — meaning you and 100 of your friends could all have had totally different party experiences in the lands of "dreams & fables", "twilight & voodoo", "adventures and inventions" or "the edge of the future".
Friday
It's hardly Dylan going electric but Fionn Regan has gone rock, soft rock. A "relaxed" main stage midday crowd didn't greatly enthuse and calls for his earlier heartfelt acoustics went ignored.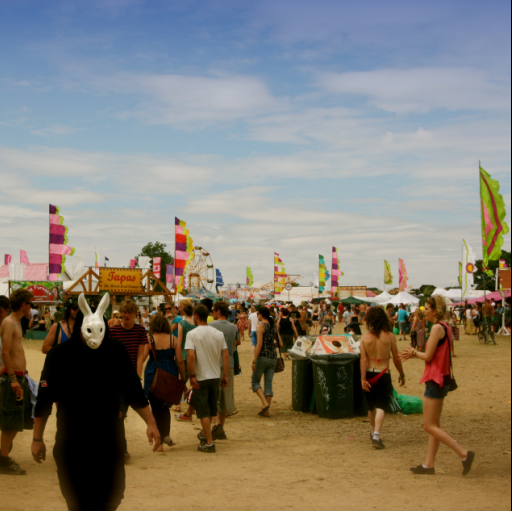 Famed ex-Beta Band front man and a man of many guises Steve Mason performed a mixture of old and new from his many cannons.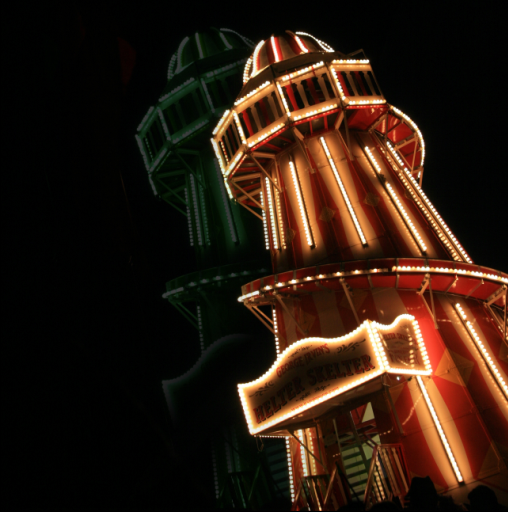 We battled, squeezed, wheezed and ultimately failed to see much of Marina and the Diamonds. The main stage was at it's busiest to see the synth-pop darling – all too competitive for us fragile folk, but the crowd were engrossed!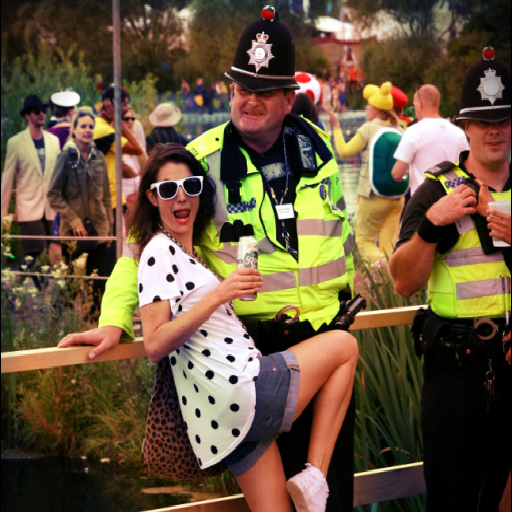 Honourable mention to Brightons croon-gypsy-swing outfit Code Luna who played a smooth, bop-able set in the unqiue surroundings of the Taxidermy Diner, a gyspy version of the Thomas the Tank Engine theme went down a storm!
Saturday
The start of a busy day saw Sarah Blasko tackle the difficult early main stage slot. A powerful, dark, almost sultry vocal kept the crowds attention.
Quick tracks were made to the Where The Wilds Things Are stage to see the rightly-tipped Pearl and the Puppets and Summer Camp neither of which disappointed and oozed summer indie-cool, a pair of real highlights for the festival.
The interesting combination of techno-gyspy-swing was delivered by an incredibly smooth Caravan Palace, perhaps only let down slightly by their own polish.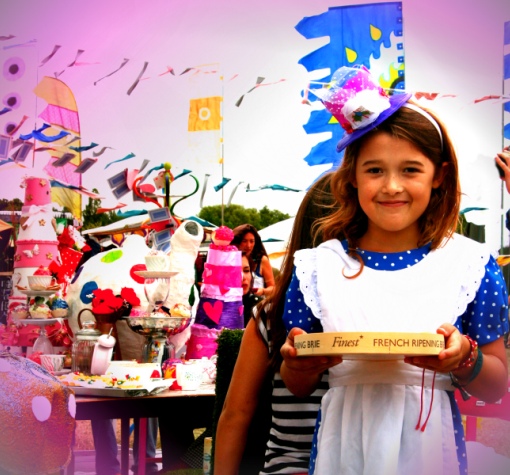 A rammed Living Room tent saw Eliza Doolittle deliver a charismatic and confident set, you can see something of the starlet in her… a real coup for the small stage.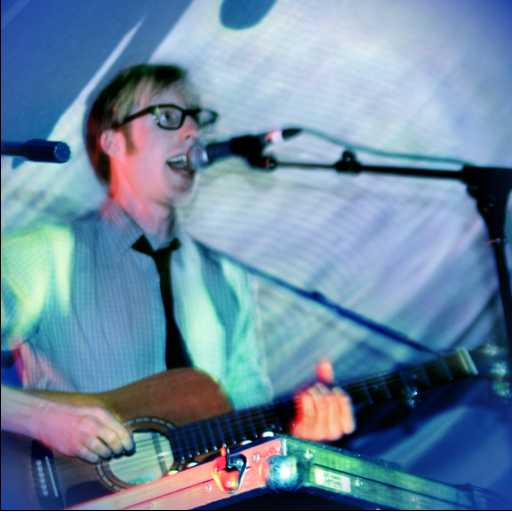 To cap the night off James Yuill almost singled-handedly deafened me, his poignantly bass heavy electronica kept the darkened Living Room hypnotized and prepared all for the rest of the nights djs and revelry.
Sunday
The airship had been burned, hangovers were in full effect, the pace and bass seemed to drop a jot, but many memorable performances were still to be had.
The impressive, powerful Anna Calvi displayed exactly why she was billed as "possibly one of the best female guitarists around on the underground" — praise that was not misplaced.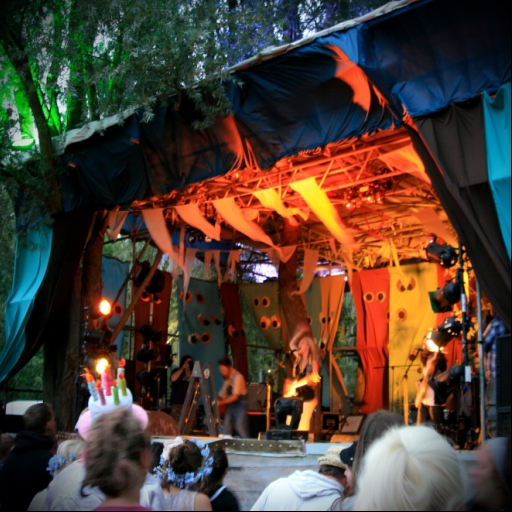 Preston boys Ivan Campo played an intimate acoustic set to a crowd nuzzling softly on cushions and sofas, a heartfelt set and just the right pace for the afternoon.
Next was "must see" I Am Arrows — moving on from past success and taking centre stage can't be easy, so kudos to ex-Razorlight drummer Andy Burrows, however the set of forgetful indie-pop failed to live up to the billing.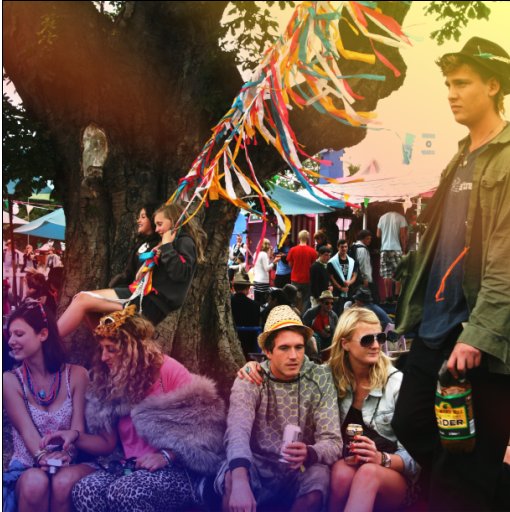 Chilled out is an embarrassing understatement to described the feel of reggae legend Horace Andy, solid set from the Jamaican stalwart, almost lulling the crowd into a further state of mellow.
The mellow feel of the day didn't last long. Enter Darwin Deez. Easily the most enjoyable set of the weekend and one greatly anticipated by the crowd. Never has a band fit a festival so well. The interlude break-dance skits verged on the hilarious, the entire band beamed and oozed frivolity – matched only by the lucky girls who won a kiss from an impromptu game of spin the bottle down in the crowd mid-set. Between songs banter was almost awaited, never were the crowd allowed to rest on their laurels.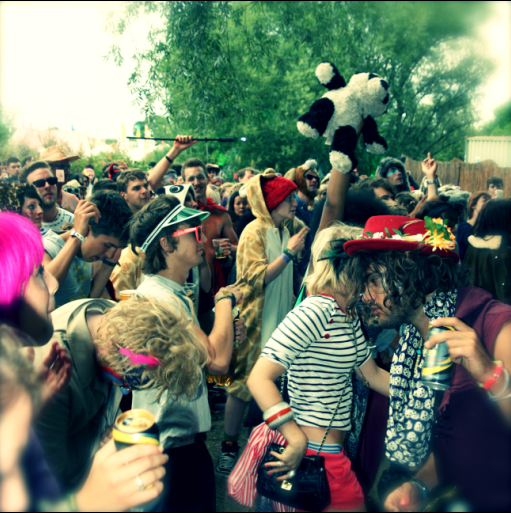 An incredibly, almost embarrassingly, shambolic Beans on Toast turned in a "set" of sorts, supposedly his 246th of the weekend… after constant complaining about the mic set up, half a song was played, the crowd were asked to invade the stage, then asked to pick up all the litter in the tent… a bizarre 30 minutes… culminating in free beer being handed out at his insistence.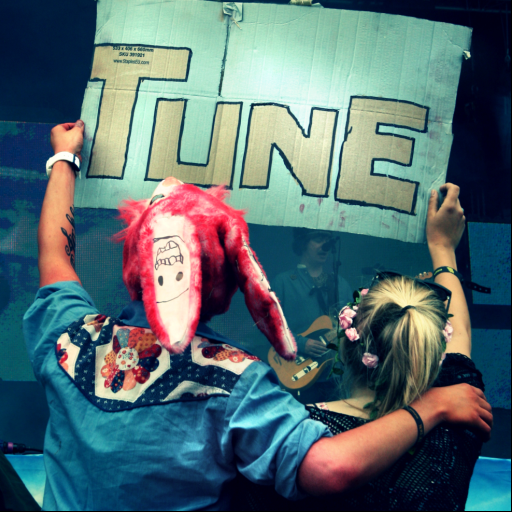 The Apples closed our festival with up-tempo big band swing and double DJs. The mix was intriguing but worked a treat, brass and vinyl working perfectly in harmony… a closing cover of RATM "Killing in the Name Of" was a highlight of the whole weekend.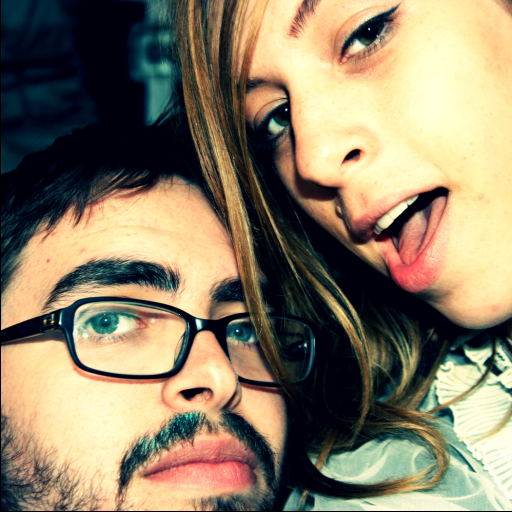 Get set for Secret Garden Party 2011: Procure a gold jump suit, kit your dog out with a tutu, forget your middle name is Leonard and you work in an open-plan office; drink, dance and revel in the carefree atmosphere that oozes effortlessly out of this festival!
Love Jovid xx
Words: Dave Wall; Pictures: Jo Kirk