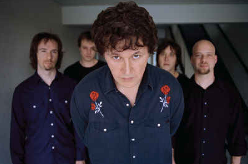 1. Prolific cult band Guided by Voices have announced they are to tour in the US in October and November. Having been enthralled by Roddy Woomble's stories of GBV's live show when we interviewed him last year, I'm desperate to see them play, so let's all write to Mr R Pollard, Dayton, Ohio, The USA and ask him to bring his band to our fair shores. All together "Hey-ey glad girls…"
2. Due to a disastrous failure to plan ahead, I missed Jens Lekman when he played London's Union Chapel last night. Here's a rather marvellous video by Paul Bridgewater of Jens' performance of Pocketful of Money. *Sigh*.
3. Also, Jens remixed Au Revoir Simone' s Shadows into 3/4 time, and after he did so, put together a rather amazing mixtape of waltzes that span genre and time. Listen to the mix: A Summer in 3/4 Time. And read what Jens has to say about it on his blog.
4. Despite the Mercury nomination, Villagers' album Becoming a Jackal doesn't really do it for me. Irish artist Conor O'Brien sounds rather a lot too much like Conor Oberst and the recordings — aside from current single 'Ship of Promises' and one or two others — sound somehow flat. For quite a while I've been failing to see what all the fuss was about. But I was recently blown away by this gorgeous session he did for NPR's Tiny Desk Concerts.
5. FFS contributor Stephen Thomas challenged me to choose my six favourite Beach Boys songs for his website We Write Lists. It was really difficult, involved me making up all sorts of rules to narrow them down (one from each album… one written by Carl, one by Dennis, one cover…. none by MIke Love) and I'm still not sure I'm happy with my choices. It was worth it for the chance to do some anti-Love propaganda though. Here's the 6 on Spotify. In other Beach Boys-Spotify news, a person (I don't know who) has made a brilliant playlist of Beach Boys covers. Listen here.
6. Six music have been playing the rather wonderful northern indie-folkers Stealing Sheep recently. Listen on MySpace. They remind me of a non-French Ödland, who I've banged on about on this blog before. If you've not listened to them yet, you should: MySpace.
7. Australian band Boy & Bear supported Laura Marling on her UK tour earlier this year. Their energy didn't really transmit to the back of the huge, posh, sit-down venue I saw them in, but check out this lovely video, sent in by FFS reader Sam Kimish. Those harmonies… *swoon*