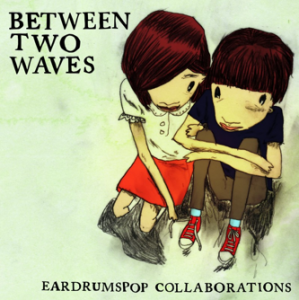 Reviewing a three-disc compilation is difficult enough without the bands not being real bands. This Eardrums Pop compilation, Between Two Waves, brings together the bands Scandinavian label/blog Eardrums Pop like, with them creating one-off projects. There are some differing results too, not necessarily in sound but definitely in quality.
No doubt good songs will miss the cut here as there are three volumes of music, so at the bottom is a list of recommended listens. Then again the compilations are free (here) so you may as well get the whole lot and make up your own mind. Nevertheless, continue reading anyway, eh?
Scandinavia has been quite kind to us, giving us Loney Dear, Shout Out Louds, the inimitable Sigur Ros and the like and there are some here making a case to join them. None more so than — well actually they're not an established band but… – the collaboration of Norwegians Casa Murilo and Like Spinning in the guise of Suspicious for the Winter.
Their offering, "Empty Streets" is as perfect as boy/girl dual vocals get. Two very different vocal lines intertwine, meeting up at the chorus only to go their own way again. It sets the bar higher than any of the other numerous boy/girl duets can get anywhere near.
But then that's the overriding feel from Between Two Waves, things are all too similar and familiar. Few songs break away the mould already set in place, and the ones that do are more often than not too difficult to stomach or drift along slowly to nowhere.
One that does leap away from the crowd is Faller Falling's best Sigur Ros impression on "I Remember Evening". The sparse synths and sounds reach similar planet-moving heights with intricate overlays. The Parisian lounge-bar feel of "Venn" by Pix and Hollie is a highlight too, sounding maybe a little too similar to Cat Power's Sea Of Love, but beautifully simple nonetheless.
That said, there are many that breach no boundaries but are still difficult not to like but quantity over quality springs to mind. A shorter, fat-trimmed two-disc-er might have sufficed.
The Best of Between Two Waves
You Make Two Weeks Two Days – Baffin Island
Empty Streets – Suspicious For The Winter
Girl From Outer Space – Starlight Recorder
T – Kubot
Prayers – Early To Bed
Ett Hus av Trä – En handvändning
Once I'm A Doctor, I'll Think Of Great Titles – Broken Motion
Venn – Pix and Hollie
Keep Trying – Sharon Van Etten and Marie-Claire Balabanian
I Remember Evening – Faller Falling
Water Bubble Moon and Star – Seasel
Don't Wait Till I Fall Asleep – Tiny Fireflies