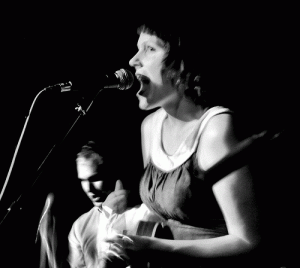 It might be something of an understatement to say that currently the Lexington is going through a personality crisis. Whilst couples around England struggle with the onslaught of the World Cup on their relationships, so too do many of the watering holes normally considered venues for music rather than sports. Whilst Brazil were battling North Korea, emblazoned across a big screen downstairs, the crowd upstairs at the Lexington gathered for a performance by Allo, Darlin' fresh from their album launch the week past at Rough Trade East. The stark divide of this sporting/musical wrong couple was further blurred by the excellent John Drain, a regular performer at Last Days of Decadence, playing a mesmerising country and blues guitar set to drown out the vuvuzelas in front of the football crowd, whilst the audience upstairs included a smattering of Brazilian green and yellow.
Allo, Darlin' are themselves characterised by a straight divide, made up of two parts Australian and two parts English, but clearly driven by the effervescent Elizabeth Morris who came to our shores from the land of Oz in 2005. A bundle of bouncing energy, Elizabeth's ukulele must require regular repair given the effort she puts into playing, but her voice never falters or breaks under the exertion. Front women with passion, presence and singing ability are a precious commodity and it should be noted that the band coped calmly with a heaving crowd that contained notaries including Steve Lamacq, performing their songs without any evidence of nerves.
Whilst some of the tracks from their self titled debut Allo, Darlin' are simple pick up and play pieces made easily accessible by the very nature of the key component of the ukulele, others are moving and rich. One such track is 'Dreaming' featuring Monster Bobby of the Pipettes whose deep lazy drawl marries well with Elizabeth's more feathery whimsical tones. For the most part Allo, Darlin' sing about love, being broke and unsuccessful but still being happy taking pleasure in the little things. The lovely silliness of their invention is summed up in 'The Polaroid Song' that made Drowned in Sound's top 50 singles of 2009 and 'Heartbeat Chilli' a song about food and the emotion put into making it.
What was evident throughout their set and listening to the debut album is that although much of the content is tongue in cheek, the product is professional and well thought out. The set had a natural flow from one song to the next with each track feeling part of the whole rather than one of a series of songs created on the hoof. It is easy to talk about potential, but the evidence here is that it is already being realised; and indeed recognised by those whose opinion can take the four piece from their self-professed penniless obscurity and into the national limelight.
Words and Pictures: Chris Gent