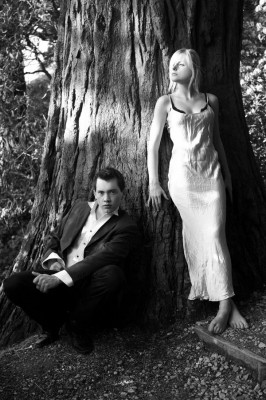 ---
Brighton's Bitter Ruin are made up of vocalist Georgia Train and guitarist Ben Richards, a pair whose apparently turbulent friendship drives the band's music. They've already recorded their second album and are started to garner some more serious attention, so it's time for the panel to take a listen.
---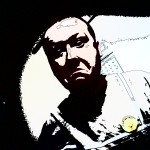 Rory Dollard: From a quick look at Bitter Ruin's myspace it is hard to tell whether the boy/girl duo are trying to sell records or audition for the leads in a local production of Wuthering Heights. Ultimately, one concludes, either would be acceptable. From the gothic press shots that pepper the page to the lavishly theatrical nature of songs like Trust, there is something refreshingly histrionic about this band. The guitar is taut and intentionally dramatic, while vocalist Georgina is entertainingly full-on. For sure there is a hint of the one-trick pony about Bitter Ruin – a change of pace or a little levity wouldn't go amiss occasionally – but it's nice to see people going their own way.
---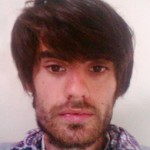 Louis Gilbert: This highly theatrical two-piece mix up the styles from jazz crooning, French cafe and more conventional acoustic pop music. The dueling nature of female vocalist Georgia and male vocalist Ben make for a claustrophobic listen. The songs are highly melodramatic and maybe that's the point. What it may lack in sincerity it makes up for in musical theatre.
---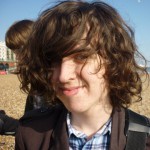 Jono Ganz: The first time I heard Brighton two-piece Bitter Ruin was in support of Amanda Palmer, one half of the cabaret punk duo The Dresden Dolls, and I must say I was doubtful at first. Vocalist Georgia Train took to the stage like a gothic Avril Lavigne, and guitarist Ben Richards looked completely out of place, a flamenco anomaly with his Spanish guitar. But as they warbled, swayed and fingerpicked through their haunting music, it became apparent that beneath the dubious exterior was an incredibly original band with real talent. Take a listen to the beautiful chord changes and vocal duelling on Beware, although listening to the music on their MySpace is no match for seeing it played live and experiencing the dramatic folk-cabaret show.
---
Check out Bitter Ruin for yourself at their myspace page here.