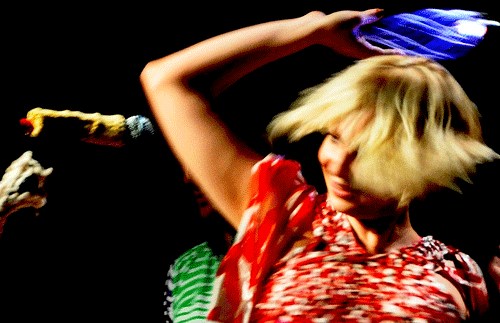 The Roundhouse still has the ambience of a new venue even several years after its 2006 re-opening as London's newest kid on the block. This may be because at times it feels like a new flat before the inevitable trip to one of Scandinavia's furniture store outlets to fill the bits of space with niks or naks of unpronounceable nomenclature. The bars around the edge feel like temporary installations, the lighting is suspended from all too visible rigging and the sound at times doesn't carry to the upper level or edges of the main space.
To be evenhanded I will make a confession, I'm just a little bit in love with Sia Furler and her inimitable stage presence. She treats her audience like a group of schoolchildren, beckoning for heckles and gifts making her show fall somewhere between soulful jazz and stand-up comedy. Together with the patchwork quilt set decoration Sia managed to create an atmosphere in the Roundhouse akin to a few drinks with old friends, throwing in the music for good measure, making it feel like the home it should be.
For any who have read Sia's blogs and followed her on Twitter, Thursday must have been a far cry from the less than enthusiastic statements of the last few months. Amongst other posts, Sia has been professing a desire to quit music after touring her new album and (heaven forbid) get a normal job. It is hard to see the woman who once described herself as a unicorn fart ever giving in to the mundane, but with her career change of choice being retraining as a dog masseuse I'd say watch this space, especially if you have a four-legged friend in need of a rub down.
Giggling like a schoolgirl and wearing a glowing headpiece Sia kicked off with 'The Flight' before the crowd-pleasing 'Buttons', her velvet voice never falters and every song is performed faultlessly (aside from forgetting some of her words during 'You have been loved') but it's in the crowd interaction that the hardcore fans take the most enjoyment.

Sia accepts gifts from the crowd like a child at Christmas, wearing her blow up mouse ears with pride, gratefully accepting a dib-dab and playing on a kazoo thrown to her by one devotee with unerring accuracy. Ever the joker, after playing a little ditty on the plastic toy, she paused to ask 'has this been up someone's bum?' typifying the playful juxtaposition of beautifully mournful lyrics and schoolyard high jinks.
As well as tracks from the 2008 album 'Some People Have Real Problems' Sia performed songs from her forthcoming release 'We Are Born' which includes a track, 'Be Good to Me' (which was written for but rejected by a recent Will Smith movie), a re-working of the Madonna song 'Oh Father' as well as new single 'Clap your Hands' or as Sia calls it 'Crap your Pants'. The new material feels in general more upbeat and refreshingly positive at times, something which can only be a good thing as a happy Sia on stage is a joy to behold.
Beautiful, devastatingly emotional and hilarious in a way that should be impossible, Sia returns to London in October which may be her farewell making it a show not to be missed.
Words and pictures: Chris Gent