FFS's Chris Gent moseyed on down to the Camden Crawl for the May bank holiday weekend.  Here, he provides his impressions of three folk-tastic bands for your esteemed consideration.
Kurran and the Wolfnotes @ The Enterprise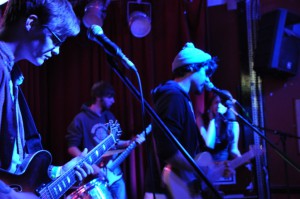 Kurran and the Wolfnotes could easily be typecast with the new-folk label which is so often applied to Mumford and Sons and the like, but there is something darker: more brooding and far sexier, that comes out in their live show.
Kurran is self-assured and effortlessly cool onstage and promises carnal delight in 'Your Four Limbs' with a smile that would seal a Faustian bargain.  Stand-out track 'Whatabitch' flips the coin and centers on a lover who, in Kurran's words, lacked the courage to break up with him.   It also seems to speak of his own failure to give up on a love he knew was over.
Expect songs of love, loss, longing and desire, easily accessible but complex enough to sustain repeated visits.  Kurran and the Wolfnotes were a highlight of the Camden Crawl schedule, and are certainly one to watch out for.
Nat Johnson and the Figureheads @ The Black Cap

Nat Johnson may have ditched some of the string complexity from her previous incarnation with Monkey Swallows in exchange for a straight-up guitar and drums setup, but the beautiful lyrics on her slower, more intimate songs remain.  Her unassuming stage presence continues to be assured mid-song and endearingly coy between tracks.
It's a skill that translates well to a compact venue such as the Black Cap serving, in turn, to make the audience feel truly appreciated and the sentiment carried in her music all the more genuine.
Mr David Viner @ Belushi's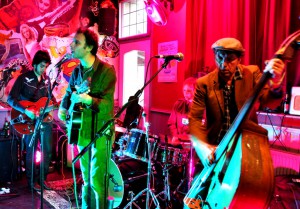 Mr David Viner, both the band and the man himself, ooze pure folk with a brash confidence verging on arrogance. The band are an eclectic bunch whose style was summed up by 'Old Man John', the double bass player's late arrival on stage having been waylaid at the bar, and Mr Viner's showman finale.
Mr Viner's departure through the crowd midway through their last track, a cover of 'Sea of Love', would have had more rock and roll impact had the man himself not needed to return to collect his cigarettes and slink off through the fire door to the right of the stage for a smoke.
Words and pictures: Chris Gent