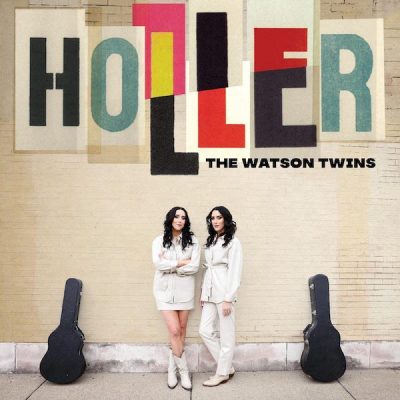 Making a record can be a frustrating experience, it can take forever to record and along the way the magic is lost. Finding the magic was at the heart of Holler, The Watson Twins' new album. Recorded in a matter of five days, with the band and Chandra and Leigh cutting it live in the studio, the album bristles with a sense of excitement. According to Chandra, "Sometimes you take the authenticity and the character out of it because you want it to be crystal clean. But our musical history has brought us to this point of understanding that the imperfections are what make it real."
Songs don't get any more real than 'Holler'. Written after the overturn of Roe v. Wade, there is no doubt about the frustration that came with the U.S. Supreme Court taking a woman's choice out of her own hands after 49 years. Their lyrics make things perfectly clear, "Holler if you hear me/ Honey lemme tell you/ Your will they'll try to break/ Gonna keep on getting' harder/ 'Cuz that's how history's made." Being stronger together and keeping going until women recover what's been lost gets to the heart of what the song, and life in the states, is about at this time. 
'Sissy Said' rocks with a vengeance, while 'The Palace' is only a tad less lively. It tells the tale of a Dolly Parton look-alike competition at a Nashville honky-tonk that's open to all. Leigh explains it's "about finding your community and your people" regardless of their particular persuasion. Piano and organ take the lead on 'Never Be Another You'. Playing with authority and energy, they frame a song about a relationship at its end.
'My Name' offers a situation that is perhaps a bit abnormal as the twins sing about a one-night stand where the protagonist clearly doesn't know the name of the woman he's bedding. Just to make everything fit together a little differently, the twins admit at the end that they don't know his name either. The final song, 'Two Timin', has been a stable of The Watson Twins live set for years. A fan favourite, Leigh explains, ""Musically, we never really found a home for it. But we always just really loved the song." It ended up being the impetus for the entire album, recorded live in just five days.
From their first recording with Jenny Lewis some 17 years ago, right up until today, The Watson Twins have been one of the best duos in the business. With any luck, Holler will be the recording that truly opens things up for them. They deserve nothing less.