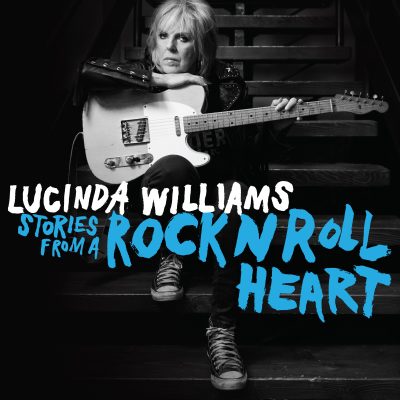 At 70, Lucinda Williams is a survivor, but Stories From a Rock N Roll Heart only tells half the tale. During the pandemic she lost her home in a tornado. If that wasn't enough, she had a debilitating stroke months later. She has relearned how to walk, but playing the guitar currently isn't in the cards. Still, the album rocks with a vengeance that would be impossible to ignore even if she wasn't singing with some of the best people in the industry. Not everybody gets to sing with the likes of Angel Olsen, Tommy Stinson, Margo Price, Buddy Miller, Patti Scialfa and Bruce Springsteen. And Lucinda's voice has never been in better form.
While she has been unable to play guitar, she has been collaborating with husband Tom Overby, road manager Travis Stephens and singer-songwriter Jesse Malin (who recently suffered a spinal cord stroke and is currently paralyzed from the waist down). In various combinations, they have crafted an album as good as anything she has ever done. Charging out of the gate, 'Let's Get the Band Back Together', is the epitome of a rock track. Starting out like the Stones with a bit of Ian Stewart on organ, it takes a look at a world that came to a complete stop, starting up again because they needed the music as much as we did.
The pace to 'New York Comeback' may be slightly slower, but there's more than enough fire to the track. Lucinda is in full voice signing, "Before you head out to last call for that last stiff highball/ Let me have the final say/ One last chance to do it my way/ One last shot, one last swing, one final song to sing." As the chorus comes in you hear that voice, instantly it becomes clear the Boss, and Patti Scialfa, are in the house, aiding the comeback. 
Slowing things down, 'Hum's Liquor' slowly unrolls a tale of Tommy Stinson's brother Bob. "Into the black and blue/ Dragging demons around with you/ Everybody wants to see the crash/ 'Til they see the red lights flash." A mournful guitar solos on the outro, making the pain at the song's heart palpable. Williams proves that she's still capable of wringing the emotion out of the moment. 
Equally impressive, 'Where the Song Will Find Me', a torch song to music offers an impassioned performance. "Standing in the rain/ In the pouring silver drops/ I'll ride the whistling train/ And I'll get off at every stop/ Because I want to be/ Where the song can find me." Amongst the slide guitar is a string arrangement by Lawrence Rothman adding to the impact of a woman constantly searching for her muse.
Stories From a Rock N Roll Heart heralds the return of Lucina Williams. She is not to be missed at any cost. Even without her guitar she is still one of a kind.