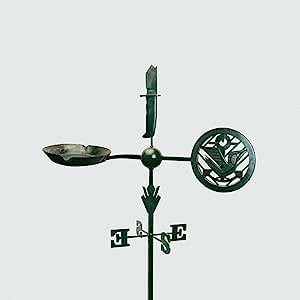 Jason Isbell is an honest man, and his new album with the 400 Unit, Weathervanes, offers an unflinching look at the modern world with a sense of honesty one rarely sees. And like any honest man, he views himself and a world he doesn't understand. Searching for answers, he tries to a way out of the morass the modern world has created. He doesn't have all the answers but that doesn't stop him from looking.
These are desperate times, something that becomes perfectly clear on "Deathwish', where Isbell casts his eyes to things that he doesn't want to see. "When your words mean nothin'/ When the world turns to monochrome/ And you know she's not bluffin', 'cause you feel it in your bones." These moments of desperation create a sense of desolation that the 400 Unit puts to music, leaving the holes that exist at the heart of those times as he watches a woman battling depression. The sparseness of the accompaniment serves to reveal the transparent terror of the situation. 
Isbell knows his way around those down on their luck like 'The King of Oklahoma'. This tale of a man ready to steal copper from a worksite in order to pay for his pills doesn't simply show how bad life can be, it deals with the despair of one who can't find any other way to make life work anymore. "She used to wake me up with coffee every morning/ And I'd hear her homemade house shoes slide across the floor/ And she used to make me feel like the king of Oklahoma/ But nothing makes me feel like much of nothing anymore." Amanda Shires burns on violin while guitars blaze, even as this relationship is left in ashes.
As a narrator Isbell tells a story with same understated style of John Prine, the words tell tales that hit notes both high and low, although the low ones tend to trigger anger and despondency. 'Cast Iron Skillet', an acoustic confection holds no sweetness. The opening chorus seems to offer words of advice, "Don't drink and drive, you'll spill it," which should come in handy, but by the time you figure out this is a song about an interracial marriage that tears a family apart, you realise that Isbell goes places that may make some country audiences uncomfortable. 
Taking on awkward topics with the grace and skill of someone who has been there and done that isn't easy, especially on a song like 'White Berreta' where the protagonist drives in his fancy car thinking back on the teenager who'd just left home. The acoustic guitars and soft, simple vibe hides the hurt of a man who had put out of his mind the horror of his own nineteen-year-old girlfriend, "If his love is unconditional, why do I feel so miserable?/ Why are you digging your nails in the styrofoam?" Especially when he begins to finally his own his shame at her having to get an abortion without him being around to help. So often we look back on our past and find ourselves wanting.
Just like the drinking and drugging Jason Isbell who basically got kicked out of the Drive-By Truckers for his own good, he's come out on the other side and isn't afraid of telling his stories and the things he's learned along the way. Weathervanes illustrates just how unafraid Jason Isbell & The 400 Unit are. They take their stands regardless of who they offend, because if you're going to tell tales of truth you can't be afraid to take the heat. Changing hearts and minds comes at a cost, but Isbell and company aren't afraid to pay the cost.