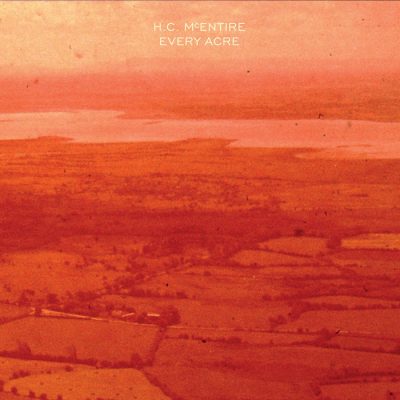 H.C. McEntire is one of the most compelling artists working today. From her rural North Carolina home, she has found a way to craft an album that celebrates Every Acre of this setting, while creating music and poetry brimming with more ideas that one is apt to find in the usual collection of songs. Brimming with sounds and ideas that end up outside the mainstream, she delivers an array of nine songs that get to the heart of who she is as a person and artist.
When singing about love, she moves from the conventional to the esoteric in 'New View'. Lines crackle with erotic energy, "Bend me and break me/ Split me right in two/ Mend me and make me/ I'll take more of you/ In the high hunter's moon." McEntire finds a new perspective as she looks at her life and relationships from the glow of the blood-orange October moon. Musically, the song starts from a simple blend of guitar, bass and drums, yet as it goes on what began simply becomes more musically complex as well.
From the simple guitar phrases that open 'Turpentine' comes a song rife with energy as Luke Norton unleashes notes that sting and burn with a fire reminiscent of Neil Young. Confronting the despair of tending American farmland in a day and age when the family farm is dying, McEntire provides the sad lament, "Time ain't always kind/ To the shakin' child/ To the slippin' mind." Amy Ray of Indigo Girls adds harmonies to these ominous moments.
Born from her own experiences with depression, 'Soft Crook' exposes how debilitating the condition can be. As McEntire explains, "It's a mysterious and unpredictable companion that can make walking this world feel like slogging through unforgiving fields of mud." Yet the answer can be found in "a lover not afraid of love" and the ability to take comfort in "the soft crook of my woman's arm." McEntire states simple truths that came from the song, "That love needs to be nurtured, even if stacked with unknowns. And we need to nurture ourselves as best we can with whatever it takes to move towards another dawn."
The opening piano of 'Rows of Clover' establishes the solemnity of the grief that McEntire has experienced. "It ain't the easy kind of healing / When you're down on your knees, clawing at the garden." The song revolves around the notion of the wasted dirt and finding a way to cope with the hard hoed work of grief she is experiencing.
H.C. McEntire is a brave woman, laying out her life in all its perceived deficiencies and dealing with the notion that at the end of the day, if she examines Every Acre, she will come out a person more able to deal with the demands of being human these days. We are lucky to be able to listen in on her study of the human condition.