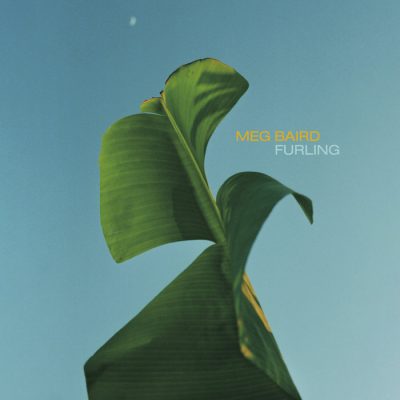 Meg Baird first entered my life whilst still a member of psychedelic folk rockers Espers, when she released her solo album Dear Companion back in 2007. She also records with her sister Laura as the wildly originally monikered The Baird Sisters and now she returns with her long awaited fourth solo effort, almost eight years after her last, Don't Weigh Down the Light.
Despite being from San Francisco, her vocals have been compared to many of those who graced the UK folk-rock scene, including Sandy Denny and Jacqui McShee. Baird's voice has always favoured melody above anything else, becoming part of the music itself. One organic beast led by this ethereal and otherworldly instrument, always yearning for something or somewhere else. Reaching up like the leaf that adorns the cover of Furling. This is first indicated on the opening track 'Ashes, Ashes' a near-instrumental with Baird's contributions becoming almost wordless as the music loops and shimmers into life.
Furling is music best heard on a good pair of headphones. It demands to be close to the ear. To shut the rest of the world out and allow you to wallow in its beauty. Baird, also a member of the wonderful Heron Oblivion and a contributor to work by the likes of Bonnie "Prince" Billy and Kurt Vile, as well as the comedian Sarah Silverman, doesn't take a backwards step once across the course of these nine songs. The piano is high in the mix throughout, competing with Baird for space, leaving the listener disorientated. This is no more evident than on 'Ship Captains' and first single 'Star Hill Song'. The former reminds me of Cocteau Twins while there are shades of Fairport Convention scattered across some of the other tracks.
'Cross Bay', while reminding me of the aforementioned Fairports, also does a neat trick in summoning the ghost of Nick Drake in the guitar playing. None of the songs in this set are hurried, each song has space to breathe and become and they're infinitely richer for it too. Furling is perfectly titled, as the album manages to feel like a rebirth. This is an artist in complete control, content with her past whilst pushing forever onwards. Across these songs, Baird can be found playing everything from mellotron to vibraphone, accompanied throughout by her longtime collaborator and partner (and also fellow Heron Oblivion bandmate) Charlie Saufley.
There's also the insistent urgency of 'Unnamed Drives' which lures you into a false sense of security, as nothing can prepare you for the sheer beauty of 'The Saddest Verses', my favourite track in the set and an early contender for song of 2023. There's something to be found in every song though and I could quite easily write essays about each of them but I promise to limit myself.
Baird's solo output makes up just a small percentage of her contributions to music, with four solo albums stretched across 16 years but it's always worth searching out for what she does, or the musicians she contributes to. Furling is definitely an album I'll be returning to over the forthcoming year as it'll be interesting to see how the colours in the songs change with the seasons.