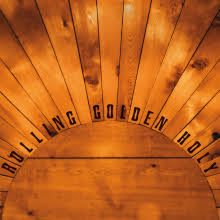 When Bonny Light Horseman – the band formed by songwriter Anais Mitchell, producer Josh Kaufman and the original Fruit Bat Eric D. Johnson – delivered their self-titled debut album in 2020 it was easy to imagine it was a one-off. The trio were delivering on an idea first conceived on the festival circuit, a collaboration to reinterpret standards from the folk songbook. But a passing fancy was never the intention, and their second album Rolling Golden Holy is here to show why.
In many ways, this almost feels like the start of a new project – it is certainly taking the original idea to entirely new places. Bonny Light Horseman are no longer a supergroup reimagining other people's work, but a fully-realised band enchancing one another's ideas. Johnson has been involved in plenty of collaborations over the years, most obviously with The Shins, but after hearing the sessions which delivered the Laurel Canyon-esque single 'California' for this record, she knew this was different – this felt natural and easy. Like the best bands do.
Natural and easy could be applied to this record as a whole. The sound is lush, the mood blissful and uplifting. These songs are new but draw on timeless ideas. It makes for an album which feels like an old friend from the first listen, from the restless drift of 'When I'm Gone' to the soldier's lament that is 'Someone To Weep For Me' to the serene 'Summer Dream'.
Over the course of 11 original tracks all written for this record, Bonny Light Horseman establish their identity in full. Where the debut had a list of guest contributors headlined by Bon Iver, here it is just the trio reunited with drummer JT Bates and bassist/saxophonist Mike Lewis, a more streamlined project which delivers a more focused sound, and the sense that this is now a permanent, settled arrangement which they can build on. Bonny Light Horseman delivered modern interpretations of traditional folk, but Rolling Golden Holy is about creating new material rooted in the past with a more modern sound. It is the sound of three artists finding their identity as a band and stepping forward together.