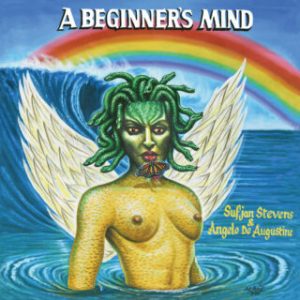 If you're looking for someone to blame for the new album by Sufjan Stevens and Angelo De Augustine, A Beginner's Mind, blame Bryce Dessner of The National. After all, it was his house in New York's Catskills mountains where the two spent a month watching movies at night, then spent the next day writing songs about those films and recording their efforts. The movies they watched ran the gamut, Silence of the Lambs, Night of the Living Dead, All About Eve, Wings of Desire. You name it, they watched it. By the end of that month they had created one of the most fascinating collection of songs loosely connected to movies you may ever hear.
By now Sufjan Stevens is a known commodity, someone who records in a variety of styles creating projects that cover everything from songs about states (Illinois and Michigan), more electronic efforts like The Age of Adz and Planetarium (with Dessner, Nico Muhly and James McAlister) and Convocations (a five-album instrumental set exploring his grief over the passing of his biological father). However, Angelo De Augustine is not quite so well known, even though he's on Asthmatic Kitty and has toured with Stevens in the past. The two are kindred spirits and in the same way certain people finish the sentences of others, they often finished the lines of each other in the songs on this record.
Over the course of 14 songs, the two display a kind of vocal interplay that makes it hard to determine exactly who's singing at any particular time. Not that it matters, because the material they sing about is never less than fascinating. 'Reach Out', based on Wim Wenders' Wings of Desire, opens with light guitar picking while the two sing about what home felt like in their previous relationships.
Interpreting All About Eve, 'Lady Macbeth in Chains' compares Bette Davis' character Margo Channing to the Shakespearean legend. The two sing of how "Just as the flame is on the reservoir/ The darkness arises so much brighter," comparing how the one time Broadway star is barely able to contend with advancing age as roles continue to elude her.
'You Give Death a Bad Name' uses George Romero's Night of the Living Dead as its source material. Rather than a zombie movie, what we get is a meditation dealing with the concepts of climate change and American exceptionalism, "Anthropocene, live it up, give a fight/ Shot to the heart, God bless America / Failed from the start, what are you waiting for?"  Where Stevens and De Augustine chose to go with these songs are equally as interesting as the movies they are based upon.
As fascinating conceptually as the finished product is in reality, A Beginner's Mind, continues to illustrate why Sufjan Stevens and Angelo De Augustine are the kind of artists that are never less than totally committed. The journeys they take seem to bare incredible fruit.