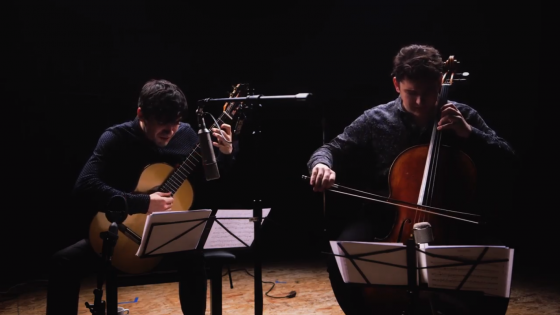 Contemporary classical composer Elliot Cole debuts five new compositions in Journals, Vol. 1. The album is crisp, clocking in just shy of 20 minutes, and its stirring performances make it seem to pass by even faster. Joined by cellist Gabriel Cabezas and guitarist Jordan Dodson, the innovative composer develops reflective music that serves as the background piece to a portion of his own life.
Likewise, its nostalgic leanings make for a stirring listen that might capture the ethos in all of us. Inundated by open-ended, twist-turning progressions and tonal shifts between the deeply rustic to subtly majestic, the project deftly showcases the multifarious talents of its artists. For all of its impeccable craft and technicality, Cole's latest EP charms most by its utterly human design. Blessed with a charisma deemed relatable by its first note, this first volume makes a stunning case for Cole to continue on his path with future Journals.
Accompanying Journals, Vol. 1 are five performance live videos featuring Dodson and Cabezas. It begins with the heart-stirring 'November 1 (Homesick)'.
Cole states, "I usually make music to get outside myself, to explore, to roam. To discover something I didn't already have in me. But Journals is a return to the personal – a pencil and a notebook, a private moment, drawing out what's inside."
Words by: Jonathan Frahm