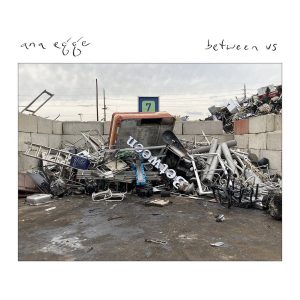 From the opening blast of horns, Ana Egge establishes that her new album Between Us is going to be a bit different than her 11 previous ones. That shouldn't really come as a surprise. Egge has constantly found new pathways, this one discovered during the heart of the pandemic in 2020, when she began collaborating over Facetime with Irish singer-songwriter Mick Flannery. Nine of the 11 songs on the album came from these sessions. Egge notes, "It was almost eerie. Almost every time we'd meet up, we would write a whole song."
Starting with the opening track, 'Wait A Minute', the fruits of this collaboration become clear. A blast of brass strikes you, while Michael Isvara Montgomery's bass work establishes an irresistible groove. The song reminds us that in order to hear we actually have to slow down and listen. "When you cut me, when you put me offside/Then you lose me. then you pick at my pride/And I wanna hear you, I want this to be better/But we gettin' nowhere If we don't go together."  Finally the chorus brings home the point, "If you want to move, it has to get uncomfortable".
Slowing things down to the sounds of guitar and keyboards, 'The Machine' is a number that Egge calls a "Father and Lesbian Daughter" version of Cat Steven's 'Father and Son'. She makes it clear that she did a number of things in an attempt to bridge the generational gap, "Walk out back I always find your head inside an engine/With your rag pushed into your back pocket/ Hand me ratchet, pass me socket/I pretend to be taken by resistors and cables/Filters, carburettors and fuel injection ratio." Yet at the end of the day that still wasn't enough, "You could understand me but you would have to try".
There's an incredible brittleness to 'You Hurt Me', where Egge sings about a troubled relationship against a woozy jazz feel complete with percussive flute. It's almost as if the pain is still fresh, "I don't wan' talk to you, all you said left me to/Wondering what I did, you hurt me/A few things happened I guess/You moved, I stayed, you worked, I played/And we faded away…I shoulda seen it comin' I guess/A knife in the back is always like that."
While much of this album is incredibly serious, 'Want Your Attention' provides a lighter moment. Thanks in part to vocal effects provided by her seven-year-old daughter singing into a cheap echo mike and a most infectious groove, Egge offers her flirtatious ways, "How you let me linger a little babe/All I want is you to get closer babe/I can feel that your eyes are on me too/I can make you follow my every move."
The album ends with one of the most heartbreaking songs I can remember, 'We Lay Roses'. The song, an elegy for her nephew, opens with just a guitar, as Egge sings about his "Beautiful, beautiful brown eyes" before a lone coronet enters. The way she almost whispers the word 'brown" only adds to the pain being felt.
There is no doubt that Between Us is one of the bravest albums you are likely to hear this year. Ana Egge doesn't pull any punches. Nor should she. Music doesn't get more powerful than this.