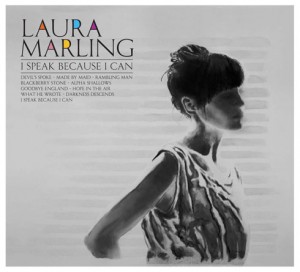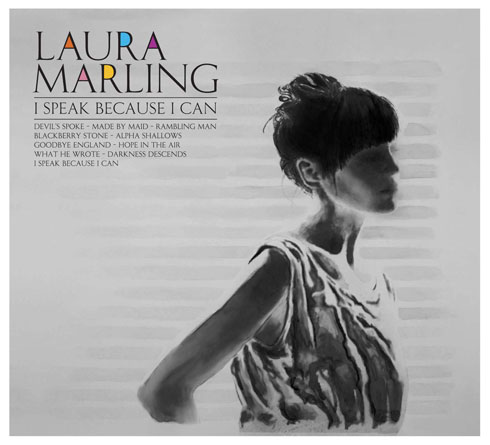 Laura Marling's new album makes me come over all Jo Wiley. I could very happily voice an advert calling it "breathtaking", "astonishing" or "sublime". Because unlike Keane or U2 or Coldplay's more recent offerings, it is all of those things.
The most surprising aspect of I Speak Because I Can is just how robust the once painfully shy Laura now sounds. With rousingly primal tracks like opener Devil's Spoke, she has extended her repertoire from the meeker sounds of Alas I Cannot Swim. In fact, this LP is in danger of totally overshadowing her Mercury-nominated debut.
Although her lyrics haven't returned to the frankness of her pre-Alas, days, neither are they as guarded as those of her debut. She sings defiantly on Rambling Man, "If I sit here and weep, I'll be blown over by the slightest of breeze". What's more Laura's delivery is more deliberate and her songwriting stronger. Even the album's artwork, shows a poised and elegant Marling, a picture of composure.
The track that would feel most at home on Alas is Blackberry Stone, which Laura has been playing live for the best part of two years. It is the middle part of a game of lyric ping pong with Charlie Fink of Noah & the Whale. On debut NATW album Peaceful the World Lays Me Down, Charlie sings "Hold my hand as I'm lowered/And please don't see me as a coward". Laura replies with "I'm sorry that I never held your hand as you were lowered", on Blackberry Stone but adds "I have no reason to reason with you". Charlie came back with an entire album about their break up — First Days of Spring — on which he sings "Well I heard you been singing I was what I am/Well I never tried to change you/Honey I'm your biggest fan".
Fans who've seen Laura live in the past 18 months will recognise many of the songs, Rambling Man, Hope in the Air and Made by Maid being particularly well-aired examples. What's exciting on first listen, then, is the studio arrangements. On Rambling Man Laura's vocals are doubled up in swoony harmonies and Marcus Mumford provides backing vocals on Hope in the Air. The Mumford lads' presence is felt throughout the album's orchestration and particularly on Darkness Descends, which really should be attributed to Marling & Sons.
Laura addresses female oppression in Goodbye England with the lines "Tried to be a girl who likes to be used/i'm too good for that, there's a mind under this hat" but to say I Speak Because I Can is all about womanhood is to do it a disservice. Its reach is much broader. The imagery is all pastoral idyll – riding bikes to the sea, England covered in snow. And the album's themes cover history, family, independence, desire, sadness, optimism, pride and hopelessness. I Speak Because I Can is the most exciting thing this reviewer has heard in a long time.
Words: Lynn Roberts