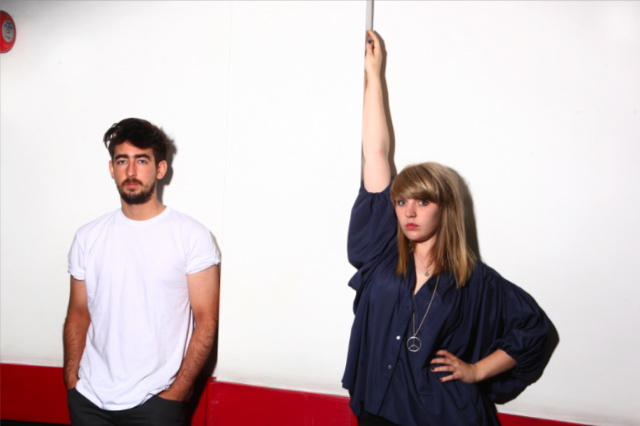 It was beautiful; no introductions, no fade out lights or music to let the audience know the band were about to begin, just two people who suddenly began to sing together whilst walking amongst a crowd of minimal capacity. Stripped down to just two voices and two acoustic guitars, no microphones, no amps, Slow Club's talent shone brightly in the dark room of Steinbruch in Duisburg, on the last date of their European tour. Perfect harmonies were sung delicately yet powerfully as Slow Club began their set with 'Wild Blue Milk'. Immediately commanding the audience's attention, there was something incredibly refreshing about Charles and Rebecca's decision to begin their set without the use of any electronic equipment at all.
As we had sat in the shuttle bus to the venue (Steinbruch – a strange mix of restaurant, pub and gig venue), one of the first questions the driver asked us was "so, how big are Slow Club in England?" I explained that they had just announced their biggest headline date at the 1400 capacity Koko in London. The driver responded with something about how different that night would be in comparison; and he wasn't wrong.
After a debatable warm up act of two German female singer-songwriters, one wearing a bandana over her mouth and nose so that no one could see her face (probably in an attempt to seem quirky, but looking quite ridiculous), the crowd swelled marginally, to what could only have been a maximum of 40 people, if that. The beauty of this intimate gig was that these were not 40 of Slow Club's biggest fans – or fans at all. Only one other person apart from myself raised a shout when Charles asked if anyone in the room had their album. Instead, it was a room (half) full of people looking for some entertainment on a Thursday evening. And entertainment they got.
Leading on from their acoustic opener, Charles and Rebecca stormed through a thoroughly diverse set of slow ballads ('There's No Good Way To Say I'm Leaving You' was a highlight) followed by crashing drums and shouts prevalent in 'Trophy Room'. Asking the audience to dance to 'Giving Up On Love', Slow Club showcased an acute ability to perform their more up tempo tracks as perfectly as their slower songs; the pitch perfect harmonies remaining as tight as the music. The power behind Rebecca's voice in particular was astounding. Although the album 'Yeah, So' features many layers of voices, creating the sense of a full backing choir, when performed live, Slow Club manage to sing with such vigour and energy that it was genuinely hard to notice the difference.
After announcing they only had one more song left, there were shouts from the audience for them to perform 'Christmas TV' and 'When I Go', requests which they graciously took. It is something I admire when an artist takes a request from the audience for a song that clearly was not on their set list; taking up their acoustic guitars and sitting side by side on the edge of stage they performed 'When I Go' beautifully, and once again without microphones. After a small slip up in the middle of the song ("oh, are we doing the whistling bit?" asked Rebecca after Charles began whistling mid-song) it was apparent that this song was unrehearsed, making their flawless harmonies and delicate playing even more impressive. Remaining acoustic, and walking through the audience, Slow Club ended a brilliant set with 'Christmas TV', and whilst those 40 people in the audience may not have entered Steinbruch as Slow Club fans, certainly more than a few came away converted.

Words: Jess Tomkins