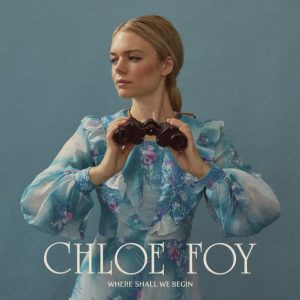 The voice is disorienting, pure as a bell, yet the subject matter of Where Shall We Begin by Chloe Foy is often decidedly downbeat. At first it seemed like a great lost Virginia Astley album.
That lasted all of about 20 seconds. Astley never used a guitar like that. But it didn't matter. The spell had taken hold. The 41 minutes of Where Shall We Begin announce the coming of age of a new artist. And nothing prepares you for what you are about to receive.
Chloe Foy is not typical by any stretch of the imagination. Mancunian by way of Gloucestershire, she's been working as a musician for years, having released five EPs, yet Where Shall We Begin is her first long player. Its genesis was born in tragedy. As Foy relates, "My dad was a talented artist and potter but instead of following that path, he worked in an office in pursuit of money, which ultimately made him unhappy." Out of the tragedy of his suicide while still in her teens, Foy spent more than 10 years attempting to make sense of that event. Much of it plays out on Where Shall We Begin.
Her musical inspirations take in so many different strands that it sometimes seems hard to simply classify it as folk music. There is more than a passing nod to the classical world, not to mention the indie rock scene, along with Americana. Yet at the end of the day there is always that gorgeous voice, which gets put to good use on 'Square Face' where the instruments fall away, and we get to hear it in all its pure, clean glory before a brilliantly crafted string arrangement takes the song to another level. 
The lyrics to 'Where Shall We Begin' can be seen as part of a message to her father. "Death to those who wait, likely it's too late/ The picture they painted is far from my eyes/ The painter in question's the hero I despise." The bells strike a note of sadness, and while the scene may seem to be downbeat, by song's end it becomes more about resignation and accepting the situation as it is now than anything else.
A minor-key melody with a descending riff informs 'Bones'. The song offers a slightly upbeat message to counter depression that needs to be kept at bay, "I'm falling but I won't touch the ground." The course may not be easy, but the sense that Foy is charting her own course seems to help. Her musical collaborator, producer and string arranger, Harry Fausing Smith adds incredible touches to any number of tracks, including 'Left-Centered Weight' where there is a feeling of renewal coming out of the sadness. 
Bristling with life, 'Work of Art' is propelled by bass with drums pushing the track forward. As Foy sings, "Bodies glow, you're a work of art," the image is one that remains even during the more trying moments, which is exactly the point. At the end of the day, all we really have to fall back on is each other.
A testament to Chloe Foy's maturity, Where Shall We Begin deals with the topics that are the hardest to face. As an introduction to both an old and new artist, it suggests that this is only the opening movement in what shall be a long and storied career.