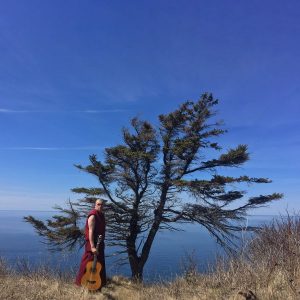 David John Morris was asked to give up his guitar for nine months in order to enter Nova Scotia's Gampo Abbey, which actually resulted in the creation of Monastic Love Songs. Along the way he had to work, study and meditate with the Buddhist monks. Naturally, while he was there, he had to give up drugs, alcohol, and sex. For the first eight months, he learned much about himself and the duality that exists between the monk and the musician who reside in the same body but are consciously kept separate.
In the last month he requested a guitar. Granting that request, the stipulation was that he was only able to use it for a single hour a day. Yet within that framework songs started to spill out. As a picture of that time, the nine original songs, along with a cover of 'Rosemary Lane', provide us with a look inside a man and a lifestyle that few can imagine.
The album's title is like much of this work is autobiographical. Morris somewhat slyly relates, "The title is a bit tongue-in-cheek, but I did fall in love when I was there… Just I fell in love celibately." He also admits, "Having said all this, I gave up my robes and I was back on dating apps pretty quickly! But at the time it was cathartic to be able to explore emotional intimacy in that way." 
There was a lot to learn at Gampo Abbey. 'Steadfast' relates a tale of learning to accept the humanity and love a person who you actually don't like very much. It's just another form of the dualism he learned about. "I realised you can definitely love someone without really liking them. You can find them difficult, annoying, stronger words than that, but when you're living there and you can't escape, you just have to acknowledge their humanity."
At the other end of the scale, 'Purple Gold' tells the tale of first love, "listening to REM/ One earphone each". There's a perfection to that moment, one never to be recaptured. It's set to the strum of an acoustic guitar with an electric added halfway through. A sense of inner peace inhabits 'Rhododendron'. An acoustic guitar sets the scene as Morris sees the flower and is touched by the notion, "I've been taking/ now I'll learn to give."
Closing the album, 'Inner Smile' was written originally as a poem of thanks to the monastery's tai chi teacher. Like so many of these pieces, the thread binding them all together is love: love for one's self, love for one's fellow man, love for the practice of Buddhism. Amazingly, Monastic Love Songs was recorded in a single day, proving that these songs, fertilised in the mind of David John Morris simply had to get out.