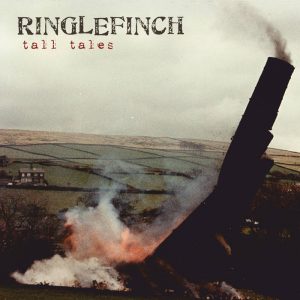 In Tall Tales, Ringlefinch have created a delightfully self-assured soundtrack for a world doing the hokey-cokey with the Covid 19 pandemic. Intelligent catchy song-writing, imagination, good humour, heart, hygge, and folk politics abound and flourish in this aural delight.
I'm listening to Tall Tales in a beautiful country garden in the Wolds of rural Lincolnshire and it's a perfect fit. Given the absence of live music events and festivals over the last eighteen months I'm giving myself a treat and having a mini-festival for one in the sun, headphones on delighting in the music of the moment. Pass me a Pimm's and make sure it's iced with fresh mint.
Tall Tales is crammed with earworms. I'm loving the arp-ing banjo and the cheeky fiddle work, lush arrangements supporting a straight up the middle indie vocal. The complex multi-part song-writing comes to life when other band members contribute their voices. This is musical chicken soup for the soul, a real panacea for a world in need of good nourishment and healing comfort.
Country, Klezmer, folk and jazz all contribute to this genteel urban mash-up with shades of bands like The Lumineers and the Waterboys abounding. These songs invite participation and incite a sense of community. I'm loving the use of the word 'we' in so many of the songs – we all know the feelings of isolation and it's great to be invited along to this shared emotional journey.
A stand out track for me is the anthemic eponymous 'Making It' with its pragmatic pop sensibilities and joyous uplifting indie vibe. Immediately catchy and likeable, this clearly is not a band 'muddling through'.
The plangent, pizzicato, pluckery of 'Ophelia' has heart , introspection and a melancholy strangely reminiscent of Nick Drake and Florence and the Machine and is just beautiful, the glorious string arrangements making it perfect.
From the Trad solo Cello of 'Woolpacks' to the jazzy gypsy swing of 'Gone South' a witty irreverent and beautiful take on travelling south for the winter, it is all going on. I'm dancing in my seat as I type. Shades of Ray Davies and the Kinks lazing on a Sunday afternoon.
'Dust and Stones' nods to Ennio Morricone with a spaghetti western squint and Jethro Tull whilst cheekily letting us dance a 3/8 Bourree. 'The Masochist Tango' is 50 Shades of Grey with a sense of humour. At some points there are laugh out loud funny hints of Neil Innes and Jake Thackery, revealing a wicked, dark and twisted perspective.
Weighing in at whopping 16 minutes and 23 seconds, 'Coldwell Clough' is a love song to a place and missed home turf – it is an epic journey of a track and you really do have to listen carefully to this. You know this is a band comfortable in its own company and in love with music, creativity, , atmosphere and home. To be fair I don't think I've listened to a track longer than 10 minutes in a very long time, possible since 1979, anyone for 'In-A-Gadda-Da-Vida' or 'Terrapin Station'? This is heart-warming music with a reverence for life.
You need this album. The depth and complexity of song-writing and the music are just the tip of a musical iceberg which saw the band build their own studio to record this astounding and delightful album. I'd never heard of Ringlefinch before but I am a fan now.