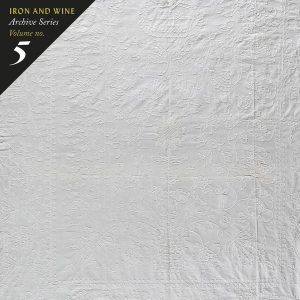 In the creative landscape there's something quite unfashionable about looking back. Whether you're an artist, a novelist or a songwriter, you're constantly training yourself to think that the next thing you create – the next song, novel, painting – will be your best one. You bring all of yourself, not just your skills and influences, but all your life experiences and failed experiments, into that creation. And when combining that with the need to share only content of the highest quality, you might be tempted to think that looking back can never be a good idea.
But we also know that there's a huge difference between how an artist views their work and how others do – and there may be few more practical examples of this than Iron & Wine's latest archival offering. The Tallahassee Recordings comprise eleven stripped-back songs recorded in the late 90s while Sam Beam was attending Florida State University's College of Motion Picture Arts – songs that had slipped off his radar but were unearthed by his erstwhile bandmate and roommate, EJ Holowicki, and tidied up for commercial release.
The Tallahassee Recordings both gives us a window into Beam's early development as a songwriter but also forms an absorbing body of work in its own right. The beauty of his songwriting lies in its simplicity; his ability to take a single idea and draw it out undiluted over the course of a song without leaning on flashy orchestration or edgy vocal melodies. What instrumentation there is – the shuffling drums, the occasional smattering of harmonica – melts into the background leaving the space for his lyricism and trademark understated vocal warblings. 
The collection opens with 'Why Hate Winter', a six-minute number celebrating the differences rather than disadvantages of the colder season: 'The radioman says it's negative two/And then he puts on the song that just wouldn't fit in the summer'. I found the sentiment especially poignant given my tendency to dread the winter (especially when it comes with an absence of live music and travel).
The songs explore a range of themes – 'Loaning Me Secrets' on the struggle to let someone go post-relationship, 'Show Him The Ground' on the relative merits of forgiveness and violence in the face of confrontation – but keep their explorations simple within the boundaries of each song. A particular favourite melodically is 'Straight and Tall' towards the end of the collection, directed at someone's need to present a tough impression for the sake of others – the extra lead acoustic guitar around the vocals gives it a nice point of difference, along with its memorable chorus.
The songs are arranged without frills – there are no fancy intros and they often finish abruptly, the music cutting as soon as the final lyrics have been sung. But this demo-like feel is quite refreshing and gives the archives the feel of lyrical sketches put to music. For fans of stripped back indie-folk (and especially fans of Iron & Wine's body of work to date) it's an enjoyable listen.