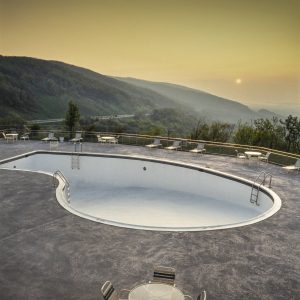 Will Graefe was incredibly lost when he recorded Marine Life. Retreating to his parents' house in Massachusetts during the pandemic to lick his wounds after a relationship going bad finally collapsed, doesn't seem like the ideal place to record a cathartic album. But Graefe poured his thoughts into the lyrics hoping to sort out his feelings and deal with the crushing hurt. Twenty songs later he had the outline that eventually became Marine Life.
Based in Brooklyn, Graefe is probably most well-known as a member of Okkervil River, yet his playing has made him a guitarist called on by the likes of Petra Haden and Sam Amidon. Having collaborated with Okkervil's Will Sheff and Benjamin Lazar Davis in the past, they were the ones he chose to share with his vision. Still for the most part is this just Graefe, exposed and vulnerable.
'Almost Morning', the first track was actually the last one written and recorded. Featuring Graefe alone and exposed, the guitar solo has an Eno-esque quality. The song, as Graefe recounts is, "about processing loss and reckoning with one's memory. It's also a simple plea for strength." Circular guitar phrases and wispy vocals fill the track. It feels just look at the song funny it could shatter into a million pieces never to be put back together again.
Breaking up is hard to do and if you're heart is the one being broken makes it that much harder, which is a pretty good description for 'Coral Court Motel'. There seems to be emotional debris floating in the swimming pool. Graefe makes it clear, "Coral Court Motel is some version of a break-up song. It's a song about resignation, infidelity, insanity. It's psychological." He mentions, "The song features Katie Von Schleicher singing harmonies. I love how she shadows and weaves in and out of the phrases like an apparition. which is sort of how I felt for the last year." The sense of haunting definitely comes through in the music.
One track that completely captures the essence of Marine Life may be 'Dead Reckoner'. A wisp of a melody, delicate guitar and fragile instrumentation fill the ear while Graefe tries to explain his sense of isolation and loss. The title refers to the practice of using dead reckoning, a technique for navigation when one has lost their bearings.  Graefe recalls, "My grandfather was a naval aviator during World War II, and he used to tell us a story of having to use dead reckoning to find his way back to his aircraft carrier when he went astray deep in the vast blackness of night over the Pacific Ocean. The person doing the reckoning in this song is even more lost than that."
Through navigating loss, hopefully Will Graefe has come out on the other side, perhaps a little stronger, more able to understand who he is today. May Marine Life have that effect on us all.