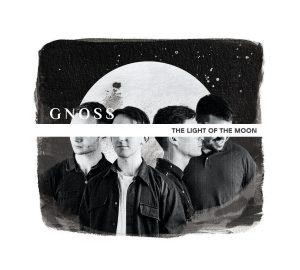 This album is like a single malt; delicious, delicately flavoured and perfectly poised to give you a brilliant time. The Light of The Moon is the first recording of all-original material by Gnoss, with seven instrumentals and four songs. When we listen to Gnoss playing we feel the joy and camaraderie of a truly great  folk band. It is an elysian and uplifting experience, a thing of joy.
In the opening track 'Gordon's', musicianship is to the fore and changes in tempo abound, the beautifully recorded instruments sound perfect, due in some part to Scott Wood of Skerryvore's masterful co-production. I wonder what Gnoss will be like if they continue to play together in 10 years' time because by crikey, they are hitting the spot right now. I predict a long musical life and many fans for this band. 
Often songs come as a disappointment on predominantly instrumental Celtic music records but in this case the band really hold their own. 'The River' sounds fresh, Aidan Moodie's voice has exciting shades of David Gray and Michael Scott of The Waterboys lurking within. It is lovely to hear the dynamics and multiple layers within the playing, always underpinned by the fantastic rhythm section of Bodhran and Guitar, making the songs groove effortlessly. 
All the gears are working on this musical car and there are no roadworks ahead, we're cruising and heading to the far North. This is music from the wild places the Highlands and Islands. A feel-good album with touches of fire and sweet melancholy. A recording to be played and savoured regularly. In particular Graham Rorie on fiddle and assorted strings and Connor Sinclair on whistle and flute play with great elasticity and energy bringing pace, verve and wit to proceedings.
'Good Crieff' goes off like the clappers with its insistent rhythm reminding me of prime Bothy Band, we're here for the craic. There is a playful youthful exuberance and fire in the playing, the sudden gear changes – moving away from the tyranny of traditional tune structures to improvising and layering. The band push the pedal to the limits building musical excitement until the tune  drops, a master class in how to do Trad like you mean it! 
With Gnoss there is no braggadocio posturing just really great playing and a collective will to create something beautiful. Lovely to hear the breakdowns and variations with their ostinato patterns, nodding at modernism and reminiscent of bands like Spiro, Leverett and Lau but with a decidedly Scottish accent. Whilst the rhythmic underpinning of the music is taken care of by the wonderful bodhran playing of Craig Baxter and James Lindsay on double bass adds depth to the music. The overall sound is a rich filigree of acoustic layers, textures and motifs.
The delicate finger style of 'Alistair and Katrina's' mark a definite change of pace and elysian feel with its delicate arrangement revealing a mellower side of the band.  My favourite song 'Cold Clay' is upbeat, the wheel of the year celebrated in fine Orcadian style, check out the whistle breaks from Connor Sinclair – what a treat! 'The Sun that hugs the Ocean'  is a love song with delicate harmonies in the chorus and a  beautiful effortless lead vocal. This song is sweet as a nut and a likely addition to the living tradition.
The album finishes with a track called 'That's Me' starting with a reassuring chug on guitar and self-assured violin playing. We know we're in for a treat it's a band holding back just waiting to let rip and when they do, we're just mainlining Celtic Scottish music and its great! Pass me my single malt, I need to drink it all in and do it again. Why not take a virtual trip to an Orcadian Croft and pass time in the wonderful company of Gnoss in the moonlight? Some of the best dreams are made of this. 
Slàinte.