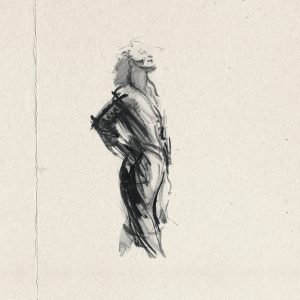 Invisible Music: folk songs that influenced Angela Carter is a literary, clever, erudite, elegantly crafted offering from Polly Paulusma. We are presented with a cornucopia rich in poetic images, harmonies and delightful performances. Interspersed with extracts from Angela Carter's sublime writing read beautifully by one of the three narrators on the album – Polly Paulusma, Kathryn Williams or Kirsty Logan – which shines a light on the following traditional folk song. 
The subject of Angela Carter's writing and her singing of traditional folk songs in the 1960's is an area of fascination for Polly. This album is the sonic accompaniment to Polly's recently-completed PhD thesis of the same title a research project into the many ways Polly believes that being a singer, and having the muscle memory of singing, influenced Carter's imagination and language style.
Folk tradition and feminist perspectives abound in this intriguing sonic essay of an album, but make no mistake – although this is academically rigorous it is also by turns entertaining, charming and thought provoking thanks to the elegant curation and interpretation of the literary and traditional source material.
We are in magical realism territory here, dark sensual, fantastic, grotesque, bloody, and beautiful if you love story-telling, folk-horror and a great gothic folk song you'll love this album. On listening we are drawn into a hall of mirrors in which each reading informs the song, the song illuminates the text inspiring interpretation of the song. At the heart of it all are the words and the invisible music that flows through them. In a world of quick musical fixes and instant gratification we are listening to an artist scholar's final thoughtful well-crafted thesis.
I love the deceptively simple direct approach to the production and musical arrangements that allow Polly's voice to take centre stage. I'm entranced by the directness and an uncomplicated natural ease and artfulness of the performance of the songs, it asks us to  focus on the lyrics whilst enjoying the expressiveness of Polly's singing. In many ways it's almost like listening to a great performance in a folk club – there's an acoustic artfulness and wit and an immediate sense of being present at the performance, a rare feat.
The supporting musicians – Jed Bevington on violin, Jack Harris on acoustic and electric guitars, and John Parker on double bass – add to the emotional impact of the music without distracting us from it. Their craftsmanship reveals moments of beautiful virtuosity in service of the songs and the stories they tell. 
The stand-out tracks for me are the upbeat 'Jack Munro', in which lovers separated by war are re-united by feminine guile and cross dressing, and 'Lucy Wan', a tragic tale of incest, murder, denial and flight. The unaccompanied singing of 'The Banks of Red Roses' is sublime and the song is as dark as any grave dug by a murderous lover. 'The Maid and the Palmer' has a dark fugue like intensity and Jack Harris adds to this with his edgy fiddle playing that mirrors the songs dark theme of infanticide and sexual predation and coercion.
This album is Trad Arr. for the twenty first century: beautifully explored, interpreted, performed and curated by the remarkable musician scholar Polly Paulusma PhD.