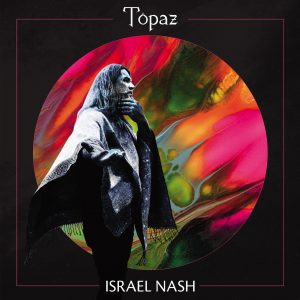 Israel Nash is a bit of a throwback to earlier times, and his new album Topaz is an example of virtually everything that is good about music, which is even more remarkable since the bulk of this album is just him recorded by himself at his Texas Hill Country Quonset hut he converted into a studio. From that low key locale, comes one of the most soulful sounding recordings likely to be heard this year.
There's a languid groove to 'Dividing Lines' with slide guitar setting up a country-ish tone that ends up getting a chorus that moves the song closer to the city. He speaks of the divisions that tend to separate us, "Love runs and hides/ Every time it's around." The chorus soars and sends this song into places far beyond what one expected from the opening. 'Closer' is the song of an itinerant musician, describing the joys, the sacrifices, "Strumming chords/ Making friends/ Rolling Js/ And losing money." Clearly, he pays the price for the choices that he has made.
He may be singing about the country, but the Hard Proof horns give 'Down in the Country' a decidedly citified vibe. Adrian Quesada, who co-produced the album with Nash, provides some tasty guitar work on a song that is more political than one might expect. The song reflects on rural America and economic hardships. Nash puts it quite succinctly, "With devastated towns, family farms, the shuttering of factories, there is a real burden that unfortunately makes many vulnerable to the empty promises of those motivated purely by political and economic gains. This is a song about the people. Great things happen when we get the truth." Fortunately, the truth seems to be coming back in style.
One of the true mysteries of Topaz is how country and soul blend so successfully. The organ that frames 'Canyonheart' establishes a vibe that combines the two while Nash sings, "Come on down and you will find/ My heart is a canyon/ The flashing flood won't drown you out." The surprise is the way the song feels both wide open and stripped down at the same time.
The final two songs are incredibly serious and heartfelt. 'Sutherland Springs' recalls the 2017 shooting of 26-people during worship services close to his studio. Mournful pedal steel only serves to underscore the pain. Suggesting solutions can be more difficult, yet Nash digs to the heart of things suggesting, "There's more of us than them/ Together we can stand/ And put some pressure on the man." It's a solution that makes more and more sense these days.
Melding musical styles with a world in turmoil, Israel Nash charts a course that offers lessons we can learn from. The music on Topaz comes with a message. It's up to us to change the world. Things won't change unless we make them. In this day and age that has never been more important. Topaz can be a starting point.