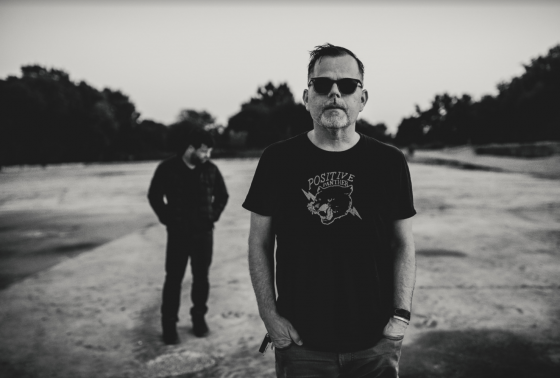 Strays Don't Sleep is back in a big way. After 15 years, Matthew Ryan and Neilson Hubbard are together again with pictoral, ambient folk that's worth the fanfare. Natural, meditative, and altogether human, the folk duo feel right at home with one another, in complete artistic sync. A Short Film for a Long Story is an EP that weaves a story of warmth and honesty, seeking sincerity and hope in a disconnected, jaded society. In celebration of its release, Ryan joins For Folk's Sake as its latest 'FFS 5' interviewee.
Please tell us a bit about yourself. Where are you from and how did you get started in music? Any defining moments along the path to the present day?

I'm from Chester, Pennsylvania. About 20 minutes south of Philadelphia along the Delaware River. It was a troubled town, manufacturing and oil. Beautiful back in its day. And still could be. And while when I was a kid I envied the prettier places I would see from time to time, I wouldn't change (virtually) anything now.
Coming up in a hard place, if you navigate it right with art and hope and curiosity, you end up with this combination of hunger and empathy. A strong sense of right and wrong. I've taken the architecture and smokestacks I knew there everywhere I go. The quiet and beautiful times too. Home is always home. I started writing songs when I was about 17. I loved music so much, it felt like weather to me, something I could move through or occupy just like a room.
I still love music. It's the only reason I still do it. There's no explaining that sensation when a song comes, as if ghosts are giving you something important to pass along. As far as defining moments? I guess I would lean towards the mystery of it, how an idea or mood becomes a life of its own so that it can walk with others and their stories and interiors. It's a humbling and widening experience that I always greet with gratitude no matter what the song eventually does (or doesn't do) in the world.
And it occurs to me now, I remember when I first started driving and exploring on my own, I went to The Wyeth Museum in Brandywine, Pennsylvania. I would go there pretty regularly. Usually alone. I found it incredibly inspiring that such amazing beauty was being painted just miles from the world I knew. It inspired me. It gave me a sense of possibility beyond what was in front of my nose. 

As an artist, how do you define success?
When I've removed my expectations in the work I do, and the work feels exactly as intended… That's success to me. Once that's happened, it feels like anything is possible.
What do you find to be your greatest struggle when it comes to the music business?
I'm not a fan of marketing. I'm dogged by the romance that a beautiful song should be enough. Fortunately, I also entertain a healthy amnesia. So every new song or collection brings a wild sense of possibility.

What do you think is the most realistic goal you can achieve as an artist/band? What do you hope to achieve?
Probably to the detriment of a measured sense of things, I don't think of goals beyond creativity. Other than welcoming and doing the best I can on the behalf of the songs as they come, I don't create maps for "success." I do enjoy the blue collar work, the beauties and rituals of touring and sharing the music (when there's not a pandemic). I love playing music with and for people in a quiet room. Something special happens for us in the presence of music and music lovers. It's best when it's either physical and together, or alone. I love driving and listening to music too. I love only a couple things more than being arrested by a song, coffee and my gang. Music is such a thread between us. I guess at the end of the day, I would hope to achieve a kind of undefeated sense of possibility in my life and work, to remain hopeful without fairy tales but to know that life and what we do and hope for can be difficult, but it is the doing that matters. I just would never want to be permanently corrupted, my aim is to take the punches that come and still stay beautiful.

Outside of music, what do you like to do that you feel contributes to the creativity that you tap into for your music?
Living and staying open and curious in our nows is the most important thing we can do to remain creative. 
Words by: Jonathan Frahm