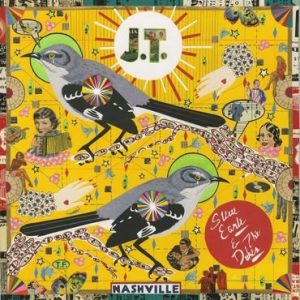 Steve Earle never planned on making J.T., released on January 4th when Justin Townes Earle would have celebrated his 39th birthday. No one ever plans on outliving their kid. But on August 20th Justin Townes Earle died and Steve Earle was left with a hole that could not be filled. In less than two months, Earle and the Dukes began working on a covers album much like his recent recordings for Townes Van Zandt and Guy Clark. Except nothing prepares you for making an album for the son you recently lost. Recording it "wasn't cathartic as much as it was therapeutic," Earle said. "I made the record because I needed to." Earle adds, "It's the only way I knew to say goodbye."
While there are tough moments in some of the songs, J.T. is actually more of a tender celebration of a songwriter who had learned the lessons found in song. In his teens, Justin watched Nirvana on MTV Unplugged entranced by Kurt Cobain's reading of Leadbelly's 'Where Did You Sleep Last Night'. Pointing to his own record library, Steve introduced Justin to the L section where Leadbelly was next to Lightin' Hopkins and Mance Liscomb. That was all it took. "Next thing I knew he was playing Mance songs that I had never been able to figure out."
Stylistic differences between the Earles are obvious from the get-go. 'I Don't Care' is rustically countrified, guitar and violin to the fore as Justin's lyrics bemoan the new world: "Well the railcars running though these streets so fast, I would jump one if they'd just slow down/ There's killers on the road so it ain't much chance of me trying and hitching around". The times may change, but the urge to leave doesn't.
Staying away from some of the 'hits', Earle worked on finding the songs that had more meaning for him. No matter how you sing it, you can't miss the meaning in 'Maria'. There may be a shimmer to the guitars, but the lyrics offer up the sad news, "I guess mama wasn't lyin' about the dangers/ There could be inside one's heart/ We're better off if we all remain strangers/ Stumblin' thru the dark."
The Dukes are a band that can rock when it needs to, hell they can play just about anything. They cover the dark fate and fury of 'The Saint of Lost Causes', tingeing the song with the blackness reflected in the lyrics. "Some will say I've got no feeling/ No heart, and surely no shame/ Truth is that this has been with me so long/ That I, I must admit I kinda like the pain."  Rumbling with menace, the guitar and violin on fire, and Earle's harmonica equally as incendiary. Demons are clearly being released.
The final song, written by Steve Earle, 'Last Words' reflects the pain that doesn't heal. Recounting the life of his son from his first breath to their last phone call. "But where do you travel now/ It doesn't matter anyhow/ Can't help but wonder if you knew/ You took a part of me with you." A fitting end, remembering a father's love for his son, J.T. by Steve Earle and the Dukes is simply unforgettable.