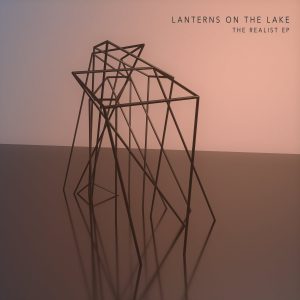 It has been a pretty good year for Lanterns on the Lake. Spook the Herd, released in February, was nominated for the Mercury Prize, while BT Sport commissioned the band to create the theme tune for their Champions League coverage. They are then gaining the recognition they deserve. Now the Newcastle quintet return with a few more songs on this new EP.
Contrary to its title, The Realist is a record for the dreamers and romantic souls. There is a lot of emotion with a dose of sublime out there. In this collection of five songs, I hear a manifesto of sensitivity, the call remaining to be delicate and mindful for the beauty in the face of growing aggression and pressure in uncertain times. It's all woven from the band's signature sound and the echoes of Cocteau Twins and Mogwai.
In the title track among graceful piano, Hazel Wilde sings with her noble voice about "dreaming in the morse code". In folky 'Understudy', she openly confesses: "I can't tell where the white lies end and the real ones begin". The new version of 'Baddies' from Spook the Herd sparkles with beautiful string parts but it doesn't ease the powerful and bitter overtone of the song, which is about the corrupted power and the rising tide of anger. 'Romans' brings everything we love in dream rock and shoegaze due to Paul Gregory's leading guitar. What a cinematic and melodic sound. Something for Slowdive fans. The last tide with closing instrumental track − 'Model City' perfectly fits with EP's cover. The post-rock vibes capture how the glass city waking with the rising sun can sound like.
This is a record that will be a good companion for contemplation during winter walks lighting with lanterns and Christmas lights. Not a brazen soundtrack but leaving a trace in the head. The dreamers will read its code.