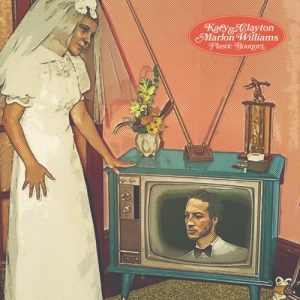 Kismet is really the only way to explain Plastic Bouquet by Kacy & Clayton and Marlon Williams. It was sheer chance that Williams was listening to Spotify when 'Springtime of the Year' came on. Transfixed with the tune he discovered that instead of some forgotten jam from the sixties, it was recorded by a duo younger than himself. He got in contact with them and fairly quickly the three decided to do an album together. There was only one problem, Marlon lives in Christchurch, New Zealand, while cousins Kacy Anderson and Clayton Linthicum hail from Glentworth, Saskatchewan, Canada, population 65.
Leaving summer behind, Williams flew to Saskatchewan over Christmas of 2018, and during the course of three weeks the trio wrote the bulk of what would end up as Plastic Bouquet. Adjusting to the rural world, Williams adapted to the cold weather, chopping wood and discovering they all shared a love of old Bob Dylan and Merle Haggard. But still at the end of the day it's all about the songs and they are simply marvelous.
Over the simple strumming of 'Your Mind's Walking Out' Anderson and Williams harmonise on a killer chorus, "Time is on your side/ Though you're looking like you're barely alive." Ethereal and slowing burning, 'Arahura' tells of a river in New Zealand, the site of numerous battles. Sung from the river's perspective it wonders why humans fight about rocks when there are so many at the bottom of the river.
There's an old-timey, bluegrass feel to 'Plastic Bouquet' yet it tells a tale much more modern, "He was a good kid/ That's what they say/ On the cross by the highway/ With a plastic bouquet." The haunted sense to the song gets even stronger as Anderson notes, "After we wrote that song, my dad got in a car accident by the same spot. He's okay, but it was eerie."
Both twang and bite fill Linthicum's music on 'I'm Unfamiliar'. He opens with a retro organ and follows that up with guitar work that bites. Not bad for a tune that's over in under two minutes. Ending the album with 'Devil's Daughter' you hear a couple of guitars and what could be a prayer, or more likely, a curse. "Sooner or later I'll have to tell somebody/ They're gonna come and take her far away from me/ Think I'm gonna cry when I lose my little baby/ That's just the way it is that's the mischief of…" Mystery on top of misery.
These 11 songs play out in under half an hour, which would be a problem if the quality weren't so high. Kacy & Clayton and Marlon Williams have done something quite remarkable with Plastic Bouquet, spanning the continents to create an album both traditional and modern at the same time. It resonates and haunts, illuminating the skill of all three players. Hopefully, this is just the beginning.