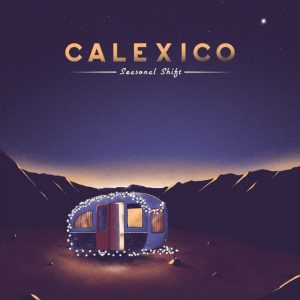 Christmas this year is going to look a little different to usual for obvious reasons. The good news is that, with the help of Calexico, it can sound a little bit different too. Swapping out the sleigh bells for mariachi horns, Joey Burns and John Convertino bring their distinctive brand of southwestern Americana to the tradition of the festive record. With the help of special guests including Bombino, Gaby Moreno, Gisela João and Nick Urata, they take on covers of John Lennon and Yoko Ono, Tom Petty, traditional Mexican and Venezuelan tunes alongside original material, creating an album unlike any other in the genre.
As the title suggests, Seasonal Shift is not designed as a pure Christmas record, but instead what they call a "cross cultural seasonal celebration". Mostly it's a goodbye and good riddance to 2020, and we can all get behind that. Not that Christmas is shunted aside – after the starry opener 'Hear The Bells' comes a rocking cover of Petty's 'Christmas All Over Again'. They also cover another holiday standard in Lennon and Yoko's 'Happy Xmas (War Is Over)' – though its the song's message of looking to a new year – 'Lets hope it's a good one/Without any fear' – which resonates most strongly against the backdrop of 2020.
The record's unique flavour comes from the likes of Gaby Moreno's 'Mi Burrito Sabanero' or 'Tanta Tristeza', sung here by Gisela João. Penultimate tune 'Sonoran Snoball' is perhaps the most unusual cut, a playful party song with touches of an early Nintendo soundtrack that celebrates the passing of another year. The record closes with a reprise of 'Mi Burrito Sabanero' as the band and others offer season's greetings. "May next year be far better than this one," somebody says. Amen to that.