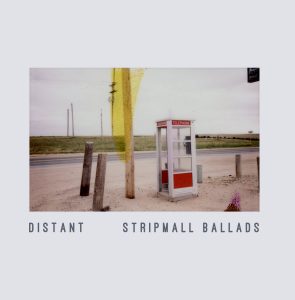 Phillips Saylor Wisor has led an interesting life, wandering the back roads of the American dream. With Distant he channels the ghosts of the highways and byways. He follows paths established by the likes of Woody Guthrie, Robert Johnson and dozens of others immortalised in Library of Congress recordings discovered during teenage fever dreams. Five years as half of the Shiftless Rounders, along with stints in King Wilkie and Vandaveer, heightened his resolve to follow a path determined by roads less taken.
In a country where you can drive thousands of miles only to end up in a landscape looking remarkably similar to the one you left behind, people and interactions become keys to insight. 'Susan At The Crossroads' establishes a telling connecttion: "I don't care about your hustle. I'm only here for a short time. To be fair, I did whistle, But I haven't got a dime. I am going, going to reap what I have sowed. I am waiting for Susan at the crossroads." Backed by Yellow Paper Airplanes, Wisor and the band create a laconic pace focused on the connections between the characters and the country they inhabit.
The country waltz of 'Juice And Sage' barely manages to hide the depths of pain at the songs heart. A tale of unrequited love, Wisor's lyric makes his defeat palpable, "I'll lodge myself in a very dark cave, with walls made of sharp obsidian. My skin it will roughen and I will grow old, and no one will come to see me." The complexity of these lyrics make the pain more unbearable, yet somehow he continues to go on.
There's incredible darkness buried in the bass line of 'Don't Mind Me'. Wisor's tunes are dark stories of doomed people clinging to the sides sinking ships. The pictures may not be pretty, but it's impossible to look away. There are hints of Neil Young circa On The Beach contained in 'Valerie', while 'Pull Over Johnny' more than hints at even darker depths, "Keep the motor running in case the police come. You're purring and a humming and I'm almost done. Make more money if you know my name. They'll play you for a honey if you're in the game. It stops being funny when the trick's the same."
There's an inherent darkness to Distant that hints at horrors witnessed by Stripmall Ballads. While there may be a need for redemption, there's not a lot to be found. What we're left with is the sense that sometimes coming out on the other side is victory enough.