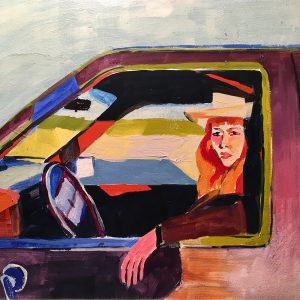 "… only time will tell if I reawakened these songs or simply botched them up." With those words Ester Rose introduces listeners to her EP of covers, My Favorite Mistakes. Covering songs by Sheryl Crowe, Nick Lowe, Roy Orbison and Hank Williams, Rose proves she doesn't lack in confidence.
Nor does she lack in follow through. Opening with Crowe classic 'My Favorite Mistake', Rose and her touring band perform the song with just the right touch of sadness. The slide guitar hints at the melancholy not quite hidden in the lyrics, "Did you know when you go, it's the perfect ending? To the bad day I've gotten used to spending." Rose's sweet voice betrays the toughness in the band's performance.
One of today's most deceptively simple songwriters is Nick Lowe. Lyrical and musical twists abound, yet Rose's reading of 'Blue On Blue' captures the heartbreak in Lowe's lyrics, "I can't sleep for all the promises you don't keep. I want to run but I'm in too deep." What seems to be a lonesome fiddle seems to cry in the background only adding to the heartbreak.
Of course when it comes to broken hearts, Hank Williams has always been the king. His songs are master classes in dealing with the downside of emotional disaster. The first notes of steel guitar on 'I Can't Help It (If I'm Still In Love With You)' dispel any notions of a happy ending. Rose and the band play this song straight, going back in time to the song a context befitting the Williams oeuvre.
Behind those thick sunglasses Roy Orbison could mine wellsprings of sadness, and 'Blue Bayou' is no exception. Using just an acoustic guitar as accompaniment Rose is able to focus attention on they lyrics. While she doesn't have the vocal range of Orbison, she is captures both the sadness and hope at the heart of the song.
Going all in on heartbreak, Esther Rose illustrates how My Favorite Mistakes are anything but. Rose proves equal to the material, imbuing these songs with just the right amount of grit and grace. The only mistake is that she didn't record more.