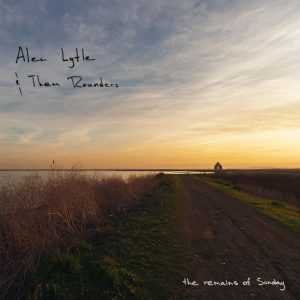 The redwood forests of northern California are home to Alec Lytle. While there is a picturesque quality to the surroundings, just like everywhere else people have their problems. Those joys and sorrows that make up life are on display on The Remains of Sunday by Alec Lytle & Them Rounders.
With a rustic feel not a thousand miles away from Nathaniel Rateliff's S.O.B., 'The Mountain' offers a take on the fun and melancholy of backwoods isolation. Violin, banjo, mandolin, and guitar join a thumping bass and stomps from their own floor, creating a rural hoedown. The story is Lytle's own comparing the rural isolation to the emotional isolation brought on by the stresses of parenthood.
The gently lilting acoustic guitar of 'Landslide', underscores the fragility of marital relationships. The song builds while Alec tears down the walls that keep communication from occurring as he sings, "And all I need to hear is you still want me near, and I can show you how I'd love you more if we wouldn't speak. No, words start a landslide, my dear."
Part prayer, part potential horror story, 'Young' casts a jaundiced eye at the modern life. Lytle peaks out at a changing world that he can see from his own front door. "My biggest problem is I don't sleep like I used to anymore. And all the projects that I started are out there on the lawn. I hope I find you while you're young." Living in a world that devours youth and innocence, the song plays out in a wicked kind of blues.
The subtle weave of light and dark on 'The Remains of Sunday' is created by a crack group of musicians featuring Greg Leisz on pedal steel, Matt Chamberlain's drums, the upright and electric bass of David Pitch, Patrick Warren on keys, aided by the piano and mellotron of Ethan Grushka, among others. Ably produced by Tony Berg and mixed by the legendary Bob Clearmountain, the album shines like a freshly polished guitar.
Throughout the album, Alec shows up at his most human exposing both human frailties and anxieties in equal measure. His take on Paul Simon's 'Diamonds On The Souls Of Her Shoes' changes the context of the piece, slowing it down, playing it softer and more simply, emphasising a world closer to home.
Taking nothing for granted, The Remains Of Sunday by Alec Lytle & Them Rounders opens the door to a world of shade where light and dark collide, exposing us to a myriad of possibilities. We have choices to make and need to choose carefully.