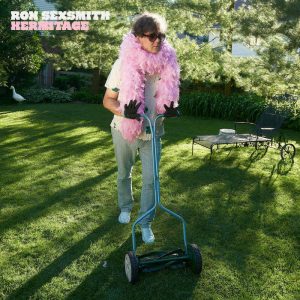 Ron Sexsmith is a name that needs no introduction to anyone reading these pages. The songwriters' songwriter proves that that's an accolade much deserved on Hermitage, his 17th studio album. We are greeted by birds chirping and playful and plaintive piano on opener 'Spring of the Following Year', a piece which could come straight from the Ray Davies songbook and the listeners are then treated to a masterclass of melody and word play over the next 40 minutes.
Sexsmith and producer Don Kerr recorded the album in his living room, with all instruments except for the drums played by Sexsmith himself. It's also his first since he moved to Stratford, Ontario, leaving Toronto behind after 30 years. This move is celebrated in 'Chateau Mermaid' – "Rest your weary bones, come dry your teary eyes".
There are echoes of Paul McCartney, Harry Nilsson and Randy Newman sprinkled amongst the 14 tracks, no more so on the upbeat 'Lo and Behold'. By the time we reach 'Glow in the Dark Stars', we're fully under his spell. As he said recently in an interview given to American Songwriter, Sexsmith got pegged early as a melancholy songwriter. In my opinion, this is a reputation he's been successfully shaking off since 2015's Carousel One.
This is absolutely an album we need in this weird and surreal times. Lead single 'You Don't Wanna Hear It' is a beautifully crafted piece of songwriting – "Music is an olive branch" – which gets you toe-topping from start to finish. This is followed by 'Dig Nation', where Sexsmith shows off his lyrical chops to the max, a song about how everyone seems so angry on the internet these days.
'Whatever Shape Your Heart Is In' is a song that sounds so simple but is done so well, ballads are something that Sexsmith has mastered throughout his career. Listen to 'Foolproof' from 2001's Blue Boy for a song that Sinatra would have been proud to have recorded.
I challenge anyone to listen to a song like 'Is It or Isn't It' or 'Apparently Au Pair' without a big dumb grin on their faces. All paths lead to the final track, 'Think Of You Fondly'. Piano starts the album and here it finishes it too. An open-armed love song, its heart on sleeve lyrics really resonate. There are harmonies throughout Hermitage, but here Sexsmith is joined by a choir to finish proceedings.
Hermitage deserves to take its place at the top table of Sexsmith albums. Over the years, this is becoming increasingly crowded. One day, he'll be able to play these songs in front of an audience and let them live again but, for now, take a pair of headphones, lay back and let Sexsmith take you on a journey you'll want to go on time and time again.