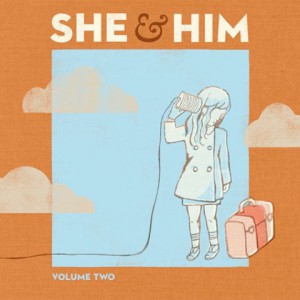 There's a lot to be said for pure originality – without it our lives would be severely lacking in, well, pretty much everything. In music though, pure originality is a fair less admirable quality. The truly original bands tend to be obscure musical seizures whose territory has been previously untouched for a good reason – it's awful. For instance, if you were to skin a puppy and make them into an umbrella you would certainly be original, if not simply because nobody in human history has been so utterly deplorable as to previously try it.
More commendable, then, is to bring originality to an older idea; and nowhere is this more relevant than in music. With their second record, Volume Two, She & Him remain very much in the retrospective fashion of their debut. Opening with a satisfying jangle, Thieves sets up the overall mood of Volume Two as well as Sentimental Heart set up their debut – this is a more cheerful record musically, though one still swamped in sadness lyrically. This mixture balances out well – M. Ward is at his best playing light and playful guitar, whilst Deschanel's voice is much better suited to the blues. Even the lead single 'In The Sun' plays up to this, a soaring song about a stagnant relationship that finds extra joviality in Tilly and the Wall's cheerful backing vocals. 'Gonna Get Along Without You Now' might just be the peak of the album – a breezy Skeeter Davis cover pulled along, as so much of the album is, by Deschanel's endearing voice and M. Ward's deceptively simple musicianship.
Volume Two is perhaps a deeper album than She & Him's first record, though only in the sense that it consistently appears to be something that it is not – these are the songs of empowerment in love and relationships, masquerading as nothing more than pleasant pop-folk tunes. Though already a beautiful record on first listen, expect Volume Two to reveal itself slowly upon further listens, a record that brings a bright, new and original take on an old and loved sound.