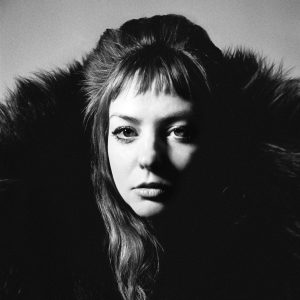 'Shut Up Kiss Me' shaped the summer soundtrack of 2016, so much so that it's easy to forget that Angel Olsen marches to a beat only she can hear. Following a path that doesn't stick to the straight and narrow, she challenges traditional expectations. All Mirrors, her new collection is a clear contender for album of the year, a string-laden set that follows a less traditional path, grand, ornate, and completely unexpected.
The sound is huge, strings and synths dominate the album, never more so than on the opening track 'Lark', where she sings, "Hiding out inside my head, it's me again. It's no surprise, I'm on my own again." As the orchestra swirls, building toward a crescendo of sound, it becomes obvious that this relationship is not going to last, 'You say you love every single part. What about my dreams? What about my heart?"
Yet this album started from a much different place. Traveling from her home in Ashville, North Carolina to Anacortes, Washington, she recorded these tracks raw and solo. Having done that she set a new course, involving herself in every aspect of recording string parts that would interact with her vocal lines rather than merely accompanying them, using reference points from Brian Eno and Robert Fripp to Ornette Coleman and Hernyk Gorecki.
Co-conspirators included Ben Babbit, an old friend from her days in Chicago, who developed a an arrangement with 50 layers of cello and violin for 'Tonight', and Jherek Bischoff, an orchestral composer who created the arrangement for Lark that required a completely new method for conducting using special gestures to generate what he described as, "a Doppler effect with a big chord of trills." Together with producer John Congleton, they have created what could easily be the most surprising album of the year.
Endlessly compelling, 'Tonight' builds slowly with the strings hewing close to the vocal melody as she sings, "I like the air that I breathe. I like the thoughts that I think. I like the life that I lead without you, without you, without you, without you." At that point the strings slide up and down spreading out as she reflects on the freedom and cruelty existing in those thoughts.
Angel Olsen has never sounder freer or more alive looking into All Mirrors, reflecting on who she is and where she's been and what lies ahead. Concluding with 'Chance', a slow dance in the fading light, there's a feeling that new beginnings may be just around the corner. What Angel sees in the mirror depends on the angle she's looking at life which is what makes her journeys so rewarding.