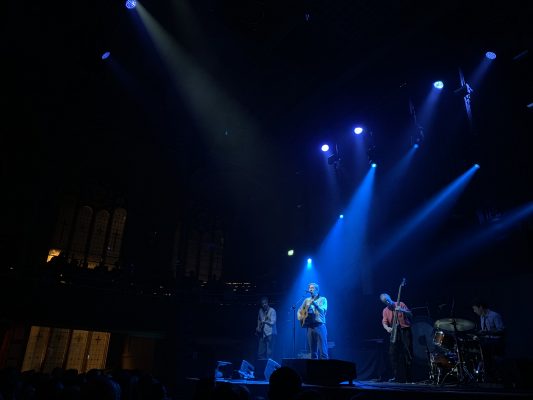 As he stands in the splendour of Manchester's Albert Hall, Bill Callahan almost looks like he is enjoying himself. He cracks the odd joke and flashes an occasional smile. 'This is the first time we've played Manchester since Mark E Smith passed," he notes. "He was such a force. I know many of you were struck by him…physically, I mean."
His mood seems to be in contrast with the topics he is here to tackle. In this old Wesleyan chapel, Callahan has come to talk about death. There is a cover of the Silver Jews' 'Trains Across The Sea' in tribute to the late David Berman, while his set list draws heavily on his first album in six years, Shepherd In A Sheepskin Vest, which reflects on marriage and fatherhood but also the time Callahan spent with his dying mother.
But this need not be a morbid affair. Shepherd saw Callahan look into the eyes of death and offer up a wink and a nod. There is no fear of the end as he reflects on the passing of generations. Nowhere is this more stark than on '747'. 'This must be the light you saw that left you screaming' he sings to his newborn son on '747' before turning immediately to his late mother. 'And this must be the light you saw just as you were leaving'.
On 'Circle', he sings: "I made a circle I guess, when I folded her hands across her chest/She slips out the door to flirt with the boys on the library floor." This old church is not hosting a funeral tonight, it is hosting a celebration.
The freeform feel of Shepherd is recreated on stage as Callahan and his band perform playfully, emphasising the jazzy lightness of touch on the album. He delves into the archives too, pulling out the pumping rhythms of 'America' and Smog favourites 'Let's Move To The Country' and 'Say Valley Maker'. Late in the night comes Jim Cain'. "I used to be darker, then I got lighter, then I got dark again", he sings. Only it is clear tonight that Callahan has stepped back into the light.